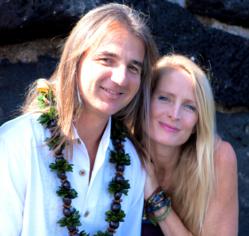 Braco and Jane Sibbett preparing for Hawaii's three weekend Gazing
Hawaii (PRWEB) February 11, 2012
Modern technology and powerful healing experiences have converged in the Braco Gazing sessions being held in Hawaii throughout February, 2012, and on Live-Streaming for international participation. Everyone these next three weekends can experience the "Braco Gaze" or the "Braco Energy" as some call it.
For those still not exposed to this man from Croatia, Braco, over a decade ago, began unknowingly touching the lives of people who after contact with Braco began to be healed. Not only were individuals who saw Braco first hand experiencing healings, but loved-ones not even present during a Gazing Session (except in heart and by photographs) began to report amazing healings.
Stories of these experiences are plentiful for the interested. For instance, viewing their Facebook alone, stories of healings all over the planet pour in. Those in the US share changes often on BracoAmerica.com.
When one of the key organizers of BracoAmerica.com was asked about these healings, Jane Sibbett replied enthusiastically, "Did you hear Dr. Laurie Moore's testimonial? She is a font of amazing testimonials via live streaming and bringing her clients to "the healing couch." Her link is on our Media page: Braco Media Page on BracoAmerica.com or there are more if you go to our testimonial page: Braco America testimonials.
Jane Sibett, a clear advocate continued, "Mahalia, who had a longstanding and painful brain injury also...she is a wealth of great information and many more. Look at the Facebook wall right now and you'll see the activity picking up, too. People buying friends tickets half way across the world in Egypt, Israel, India... it's a beautiful world when we can share our hearts like this and the hope that springs from gazing together."
For the curious, or the skeptic, or the believer, live-streaming of the next few weekend's gazing sessions will be available for only $3.00 per 45 minute session; gazing is only a part of each program. Here are some times. Braco also will be returning to Los Angeles area in March, 2012.
Braco in Oahu
Sun., February 12
11a, 12p, NEW: 1p, 5p, 6p + The Voice
Braco gazing from Maui
Tues. Feb. 14 Valentine's Day
8a S, 10a, 11a, 12p, 1p
Wed. Feb. 15 – 7a S, 8a S, 10a, 11a, 12p
Braco gazing from Hawaii - The Big Island
Fri., Feb. 17
9a S, 11a, 12p, 5p, and 6p LSG +V
Sat. Feb. 18
9a S, 11a, 12p, 1p, 2p
Sun. Feb. 19
7a S, 8a S, 9a, 11a, 12p
Easiest to look at the BracoAmerica.com site and determine which times fit time zone and schedule.
Dr. Carol Francis, Psychologist in Los Angeles, CA area, described the events, "After interviewing many individuals after a Braco Gazing, it seems each individual has a different set of experiences. Some were healed of terrible cardiovascular complications or inflammatory processes or pains. Others reported loved-ones with dementia being strangely lucid and happy. Stress, depression and clarity of thought were described by others in different interviews. I am eager to hear about people's reactions during this February Live-Streaming as well as people share the long term and short term impact their experiences produce. I appreciate that Braco has suggested that testing the experience of the Braco Gazing is essential in order to verify its validity. From that perspective alone, and based on what fields of medicine and psychology currently understand about Mind-Body interaction with the power of Belief, the Braco Gazing seems worth investigation."
Check-on the times at BracoAmerica.com and thereafter contact DrCarolFrancis.com with first-hand experiences.
###