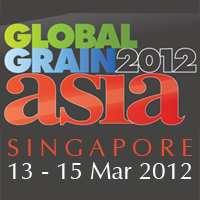 Global Commodities Group and the Centre for Management Technology are pleased to publish the full conference programme of Global Grain Asia 2012, held at the Shangri-La in Singapore on the 13th-15th of March 2012.
Singapore (PRWEB) February 14, 2012
Global Grain Asia 2012 is the major event for the grains and oilseeds trade.
With Asia becoming the industry's centre of attention as the main driver of Grains and oilseeds demand, international trade flows have undergone important changes. These have far-reaching implications for the industry as a whole, whether on international trade, regional consumption, logistics, transport, or financing. The Global Grain Asia 2012 speaker line-up, comprised of international experts and prominent market players, is well positioned to provide insights on the daily challenges and long-term opportunities for the industry.
The 18 sessions will revolve around three major themes:
Supply and Demand fundamentals in Grains(Dan Basse, AgResource), oilseeds (Abah Ofon, Standard Chartered Bank), rice(Olam International), and freight market (Peter Kerr-Dineen, Howe Robinson) will constitute a major part of the conference programme. With a combination of presentations addressing specific issues – such as Chinese or Korean buying patterns (Wei Bin, China National Grain & Oilseed Information Centre; Sung Nak Ki, CJ CheilJedang Corp), Black Sea to Asia trade flows (Ozan Ozturk, Agrozan), or financing issues in international trade (John Baker, Rabobank) – and discussion panels, bringing together experts operating in the major origins (Australia, Argentine, Eastern Europe, Canada, United States) to discuss the current state of international origination, these issues will be thoroughly covered.
Supply chain issues will also occupy a major place in the programme, with market players and experts discussing how the milling, logistics, and transport infrastructure landscape in Asia-Pacific is changing as a result of the increased trade flows in and out of region (Alex Zhang, New Hope Group; Greg Harvey, Interflour Group, Paul Harrison, SGS Group).
Risk management: A broad range of risks faced by market players will be thoroughly discussed. Price volatility and its impact on trading and consumption will be addressed. Presentations on managing weather risks (Bernard Belk, Swiss Re) and attaining legal certainty (Chris Swart & Brian Perrot, Holman Fenwick Willan), together with a panel on dealing with deteriorating milling margins (Arif Widjaja, PT Japfa Comfeed, Greg Harvey, Interflour Group) will give us a great outlook on the latest developments in risk management.
For the full, detailed programme, please visit:
http://www.globalgrainasia.com/eventschedule.aspx?ev=120304&
For further information, please contact Grace Oh at +65 6346 9147
###