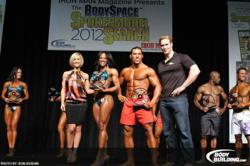 Boise, ID (PRWEB) February 10, 2012
BodySpace, the world's largest social fitness network powered by Bodybuilding.com, and Iron Man Magazine, one of the longest-running bodybuilding publications, have officially announced Craig Capurso and Laura Bailey as the 2012 BodySpace Spokesmodel Search Winners.
From New York, New York, Craig Capurso is a commodities trader in the energy markets on Wall Street. With his passion for working out, Craig has earned the name "Meat" on the trading floor. Craig has a strong background in athletics from his high school, college and semi-pro career on the football field. He is a USA Boxing Commission Amateur Boxer (Nicknamed "The Hot Commodity") and a professional physique competitor with the IFBB. It's Craig's natural leadership and dedication to helping others that truly made him stand apart from the rest. He has personally raised over 10K in the last two years via performance-based fundraising for the annual Wall Street Decathlon (proceeds support the Memorial Sloan-Kettering Cancer Center's research initiatives).
For more information on Craig Capurso, please visit his BodySpace at http://bodyspace.bodybuilding.com/craigcapurso/.
Laura Bailey, residing in Bakersfield, California is a college psychology, sociology, and philosophy instructor who also works as a mental health clinician. She has a strong desire to help those dealing with eating disorders, body image issues, and other psychological disorders. Laura first developed her love for health and fitness in college where she ran cross country and track and field. She started competing in figure competitions in 2004 and has since participated in over 34 competitions both nationally and internationally (winning 12 of her 34 shows). Laura's infectious personality and positive mix of faith and fitness makes her an amazing leader for the BodySpace community.
For more information on Laura Bailey, please visit her BodySpace at http://bodyspace.bodybuilding.com/jumper11/.
The annual BodySpace Spokesmodel Competition is a much-anticipated event deciding who will become the official representative for the community. Over 400 men and women registered online for this amazing opportunity, and with the help of online votes from Bodybuilding.com visitors the top 40 semifinalists (comprised of men and women) were decided upon. From there, the final top ten were chosen by Bodybuilding.com Staff and Iron Man Magazine Studios and flown to Los Angeles to participate in a series of Spokesmodel events, including a professional photo shoot with acclaimed Iron Man photographer Mike Neveux and a workout video shoot filmed by the Bodybuilding.com Video Team.
On Saturday, January 28th, in their final event, the BodySpace Spokesmodel finalists took the Los Angeles Fitness Expo stage to compete for the coveted title. They performed an individual model walk, battled it out in an overall comparison round and answered interview questions provided by hosts Mike O'Hearn (Titan from American Gladiators) and Bodybuilding.com Spokesmodel Jamie Eason. The finalists were judged on their entire week's performance based on the following factors: personality, physique, presentation and having a marketable look. It was a difficult decision for the judges (comprised of Savannah Neveux from Iron Man Magazine, 2011 BodySpace Spokesmodel Steve Cook, Bodybuilding.com VP of Digital Publishing John Hardesty and Bodybuilding.com Video Editor Jaki Covington), but after much deliberation, Craig Capurso and Laura Bailey claimed the title.
The BodySpace Spokesmodel winners receive a year-long contract with Bodybuilding.com, an Ironman Magazine cover and editorial feature, and most importantly, the absolute admiration of over one million BodySpace members.
For more information on the 2012 BodySpace Spokesmodel Competition, please visit http://www.bodybuilding.com/fun/2012-bodyspace-spokesmodel-search-winners.html
Bodybuilding.com offers more than 13,000 health and fitness supplements and accessories to help more than 11 million people every month achieve their health, fitness and appearance goals. The website contains more than 35,000 pages of FREE information, including more than 20,000 articles and videos, expert online trainers and new content added daily.
###