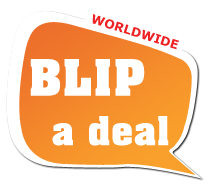 (PRWEB) February 13, 2012
"Blip A Deal" a leading deal marketing company, is proud to announce the release of a plethora of mobile app and software upgrades for all platforms for the Android, iPhone and its web based services across 12 countries worldwide.
Most notable in the Android and iPhone mobile updates are the tweaked user-interface and speed improvements therefore enabling further compatibility with a wide variety of mobile devices which were previously unusable. In addition to the mobile app upgrades and enhancements, users will also find more features and added functionality in the desktop web portal that allow users to now search for their deals based on their preferred category in addition to their location.
With thousands of deals consolidated in one place, users can easily easily browse and compare deals, instead of having to visit several deal websites. The deals can be sorted by country, popularity, categories or expiry, making it a breeze for users to make their choice.
It is the continuing aim of "Blip A Deal" to consolidate the deals, coupons and vouchers from different deal websites and organise them into a single platform, which will help save customers both time and money when searching for the best discounts
About BLIP A DEAL
"Blip A Deal" is a comprehensive site for group buying deals with around 15,000+ deals listed each day from 12 countries and 500+ locations around the globe. They collaborate with merchants and deal partners to actively source for the best deals in a city, ranging from travel, lifestyle, entertainment, food and beverages, beauty and experiences. The "Blip A Deal" portal is available to consumers from Australia, Canada, Hong Kong, India, Indonesia, Malaysia, New Zealand, Philippines, Singapore, Thailand, United Kingdom and United States.
###