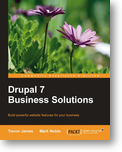 Birmingham, UK (PRWEB) February 10, 2012
Packt is pleased to announce Drupal 7 Business Solution, a new book that will allow developers to build a powerful website by adding blogs, news, e-commerce, image galleries, maps, surveys, polls and forums, to beat competition. Written by Trevor James and Mark Noble, this book will help developers to take care of and maintain their site.
Drupal is a free and Open Source Content Management System, which is written in PHP and is used as a back-end system for at least 1.5% of all websites worldwide ranging from personal blogs to corporate, political and government sites. It is also used for knowledge management and business collaboration.
Drupal 7 Business Solution provides users with hands-on practical tutorials on how to build a rich and dynamic website for their business quickly using one of the most popular tools in open source. Furthermore, this book will teach users to add e-commerce, YouTube videos and Google maps to their site to help enhance it.
Using this book, readers will learn to install and set up Drupal, to add customer accounts to their site, to insert online surveys and polls in their site to improve business through customer feedback, to integrate e-newsletter with their site that will help them increase their profits, and to add blogs to attract customers to their business site.
Packed with step-by-step instructions and clear explanation, this book is ideal for anyone, who wishes to learn how to set up a website quickly for their business using the super powerful Drupal. The book is out now and available from Packt. To read more about it, please visit: http://www.packtpub.com/drupal-7-business-solutions-to-build-powerful-web-site/book
###