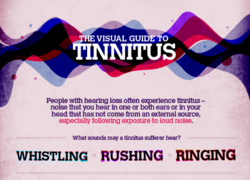 Manchester, UK (PRWEB UK) 10 February 2012
World leading hearing care specialists Amplifon have released an infographic to promote Tinnitus Awareness Week.
Mike Copley, Digital Marketing Manager at Amplifon said:
"It's so important to utilise social media to raise awareness of Tinnitus. By creating an infographic that's easily shareable and interpretable, we hope to increase accessibility to information that will help more people understand, and potentially avoid developing the condition."
You can view the full Tinnitus infographic here.
###