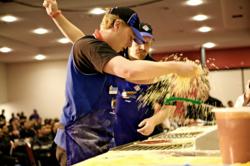 (PRWEB UK) 11 February 2012
Domino's Pizza, the pizza delivery expert, is holding its annual competition to find the World's Fastest Pizza Maker. Store managers and team members from Domino's Pizza stores across the UK and Ireland will battle for a slice of success as they compete for this prestigious title. The first of the regional heats begins in Milton Keynes on Monday, February 13.
Regional heats will continue to take place across England, Scotland, Wales, Northern Ireland and the Republic of Ireland during February and the fastest will qualify to take part in the UK final, which is being held at Domino's national training centre in Milton Keynes on February 29.
To take part, each competitor has to make three large pizzas from scratch – one topped with pepperoni, one with mushrooms and the final one topped with just cheese. All pizzas must be made to a high standard in as fast a time as possible.
After spending months practicing their dough stretching, saucing and topping techniques all the competitors are eager to put their pizza making skills to the test and are hungry to win. Judges, Jason Prescott and Simon Hudson will be looking for pizza perfection as the candidates will be judged on speed, accuracy and the quality of the pizza they produce.
Judge, Simon Hudson, said: "Every year we see so many great pizza makers coming through. It gets very competitive, with each participant determined to take the title. All the participants are passionate and enthusiastic about winning – it is great fun to watch."
The winner from the UK final will go onto represent the UK and Ireland in the World finals that take place on May 14 in Las Vegas.
Notes to Editors:
Domino's Pizza UK & IRL plc is the leading player in the fast-growing pizza delivery market and holds the exclusive master franchise to own, operate and franchise Domino's Pizza stores in the UK and the Republic of Ireland. The first UK store opened in Luton in 1985 and the first Irish store opened in 1991. In April 2011, the Group acquired a majority stake in the exclusive master franchise to own, operate and franchise Domino's Pizza stores in Germany.
As at 25 December 2011, there were 726 stores in the UK, Republic of Ireland and Germany. Of these, 575 stores are in England, 48 are in Scotland, 28 are in Wales, 19 are in Northern Ireland, one is on the Isle of Man, one is a mobile unit, 48 are in the Republic of Ireland and six are in Germany.
Founded in 1960, Domino's Pizza is one of the world's leading pizza delivery brands. Through its primarily franchised system, Domino's Pizza operates a global network of more than 9,350 Domino's Pizza stores in 70 international markets. Domino's Pizza has a singular focus – the home delivery of pizza, freshly made to order with high quality ingredients.
Customers in the UK can order online at http://www.dominos.co.uk and customers in the Republic of Ireland can order online at http://www.dominos.ie. In addition, mobile customers can order by downloading Domino's free iPhone, iPad and Android apps.
For more information, please contact:
The Domino's Pizza Press Office
Domino's Pizza Group Ltd
Tel: 01908 580732
E: pr(at)dominos.co.uk
Ref: DPGL/AL/597
###