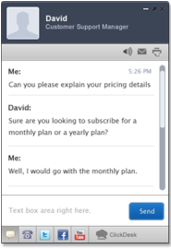 Top 10 Must-Have Plugins of 2011
SUNNYVALE, CA (PRWEB) February 14, 2012
ClickDesk, the first social live chat service to integrate social communications and voice chat support (VoIP) into the fastest live chat service, today announced it has included complete integration with Skype to its multichannel customer support offer.
By integrating Skype with ClickDesk, customer agents will now be able to handle support requests directly from their Skype accounts. This means that businesses user among a total of over 663 million Skype users will now have a chance to provide exceptional customer service directly over their Skype accounts.
ClickDesk estimates that a majority of its clients use Skype for business, and that it will continue to gain momentum as a communication channel and tool.
"What makes ClickDesk unique is that we are able to offer business of all sizes, a true multichannel customer support solution, helping improve both sales retention and customer service levels. By allowing customer support agents to receive live chat and calls directly over Skype or GTalk, ClickDesk has significantly increased the number of touch points through which your agent can engage with visitors on your website," says Rocky Gupta, product evangelist at ClickDesk.
Branded "an extension to your social media presence or website" by Network World, ClickDesk also features integrated Social Tabs to display connectivity with LinkedIn, Facebook and Twitter.
ClickDesk is 100% cloud based, which eliminates the need for business owners to install any additional hardware or software.
Listed among the "Top 10 must have plugins of 2011" by TheProgrammingBlog.com, ClickDesk has attracted over 9,000 business clients in less than 6 months, and are currently generating over 250 requests per second for Multichannel Customer Support.
Hosted in Google and Amazon cloud with backups in Singapore and Ireland, and offering a 99.9% uptime guarantee, ClickDesk is strategically positioned for growing with existing accounts and acquiring new customers with a limited ramp-up time.
Service plans start at $9, 99 per month, and just $1 for the first 90 days. For more information, please visit http://www.clickdesk.com
About ClickDesk
ClickDesk is support cloud from 2Desk. The service enables startups and small businesses to provide rapid sales & product support to their customers across channels – live-chat, phone, email and social mediums - all in a simple unified interface.
ClickDesk employs 20+ engineers and is based in Silicon Valley from where it provides multichannel customer support to companies worldwide.
###