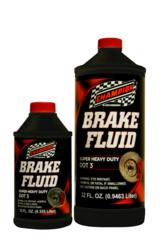 Champion Supplements the Automotive Aftermarket with New DOT 3 Brake Fluids
Clinton, MO (PRWEB) February 13, 2012
Champion announced this week the addition to their aftermarket product line a Super Heavy Duty DOT 3 Brake Fluid specially designed and formulated to protect ABS, hydraulic drum, disc brake and hydraulic clutch brake systems that require DOT 3 motor vehicle brake fluid.
Champion's new brake fluid can blend with all other approved DOT 3, DOT 4, and DOT 5.1 brake fluids.This powerful brake fluid protects against high temperature and provides moisture protection and lubricity to braking systems. Meets or exceeds FMVSS No. 571.116 and SAE J1703 requirements. Available in 12 oz., Quart, Gallon, 5 gallon, and 55 gallon containers.
About the company: Champion Brands, LLC, is a globally recognized industry leader in synthetic oil for over 55 years. Champion also produces and blends over 300 products including fuel, oil, engine additives, and lubricants for the racing, automotive, heavy truck, agricultural, industrial, and specialty markets. For more information about Champion Products contact your nearest Champion distributor, or call Champion at 800-821-5693 or 660-885-8151. Champion Brands, LLC; 1001 Golden Drive, Clinton, MO. http://www.ChampionsUseChampion.com.
###