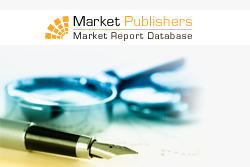 London, UK (PRWEB) February 13, 2012
The Chinese tobacco industry is expected to witness phenomenal growth due to a number of reasons. Growing smokers' population, accelerating urbanization and changing lifestyle, rising affordability and young smokers drive cigarette sales and gift culture in China.
Emerging trends in the tobacco market here include increasing female smokers number, growing popularity of 'low-tar' cigarettes, brand promotion through charity, innovative marketing strategies and strategies to capture the health-concerned consumers, finds the new market research report "Tobacco Market in China 2012" provided by Netscribes & recently published by Market Publishers Ltd.
Report Details:
Title: Tobacco Market in China 2012
Published: February, 2012
Pages: 55
Price: US$ 600
http://marketpublishers.com/report/consumers_goods/other_cg/tobacco_market_in_china_2012.html
The report offers insights into the national Chinese tobacco industry at the background of the global market. The world tobacco marketplace is thoroughly analysed while the Chinese industry is given the premium focus. Market developments and trends are examined, major market players are profiles, demand and supply are analysed. The study covers most detailed information on the today's market activities along with in-depth future market forecasts.
Report Contents:
Page 1: Executive Summary
MARKET OVERVIEW
Page 2-3: Global Tobacco Market – Market Overview, Market Size and Growth, Top Tobacco Producing Nations, Global Cigarette Consumption, Global Tobacco Consumption Country-wise (2010))
Page 4: Domestic Tobacco Market – Market Overview, Market Size and Growth, Growth of Cigarette Consumption
Page 5: Chinese Smokers – Region wise and Gender wise (2010)
Page 6: Chinese Smokers – Age wise and Gender wise (2010)
Page 7: Chinese Smokers – Age wise, Gender wise and Region wise (2010)
Page 8: Cigarette Price Assessment
Page 9: Tobacco Leaf Hubs in China
EXPORT AND IMPORT
Page 10: Import and Export Data (Value-wise) - Growth in Total Imports (2006 – 2010), Growth in Total Exports (2006 – 2010), Country-wise import and export (2010)
DRIVERS & CHALLENGES
Page 11: Summary
Page 12: Growing Smokers' Population
Page 13: Accelerating Urbanization and Changing Lifestyle
Page 14: Young Smokers to Drive Cigarette Sales
Page 15: Gift Culture
Page 16: Increasing Consumer Awareness on Health Issues
Page 17: Rising Medical Costs and Nicotine Replacement Therapy
Page 18: Ban on Smoking in Public Places and Media Advertising
GOVERNMENT INITIATIVES
Page 19: Role of the Government of China
Page 20: Chinese Tobacco Industry – High Source of Revenue
Page 21: Industry Consolidation and Health Issues
Page 22: "532" and "461" Plans
Page 23: Research and Development
TRENDS
Page 24: Summary
Page 25: Rising Female Smokers
Page 26: Growing Popularity of 'Low-Tar' Cigarettes
Page 27: Brand Promotion through Charity
Page 28: Innovative Marketing Strategies
Page 29: Strategies to Capture Health-Concerned Consumers
INVESTMENT OPPORTUNITY
Page 30: Investment Opportunity
COMPETITION
Page 31-44: Key Domestic Players – Company Information, Products and Services, Locations in China, Key People and Key Recent Developments
The China National Tobacco Corporation
Hongta Tobacco Group Co., Ltd.
Hongyunhonghe Tobacco (Group) Co., Ltd.
China Tobacco Hunan Industrial Corporation
China Tobacco Hubei Industrial Co., Ltd.
Shanghai Tobacco (Group) Corporation
Page 45: Public Companies – Summary
Page 46-54: Key Foreign Players – Company Information, Products and Services, Locations in China, Key People, Financial Snapshot, Financial Summary, Key Ratios, Key Business Segments, Key Geographic Segments and Key Recent Developments
Philip Morris International Inc.
British American Tobacco plc
Japan Tobacco Inc.
KEY TAKEAWAY
Page 55: Key Takeaways
LIST OF CHARTS & FIGURES
More new market research reports by the publisher can be found at Netscribes page.
###