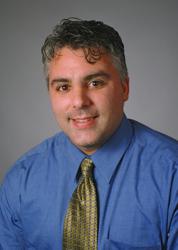 We are pleased to offer a minimally-invasive alternative for patients who have a lesion on their lung...This is an option that will help many patients.
Timothy Barreiro, DO, FCCP, FACOI, FACP
Youngstown, Ohio (PRWEB) February 13, 2012
The St. Elizabeth Pulmonary Health and Research Center now offers a new procedure called Electromagnetic Navigation Bronchoscopy (ENB) that offers patients a minimally-invasive option to locate, enable biopsy and plan treatment for lesions detected deep in the lung.
St. Elizabeth is one of the first in the area to provide the superDimension® i•Logic™ System as an option for patients who have learned they have a hard-to-reach lesion on their lung. The ENB procedure combines GPS-like technology with a catheter-based system that uses the patient's natural airways to access lesions that were previously hard to reach. Typically a patient with a spot on their lung had the options of major surgery to remove a section of the lung, bronchoscopy (which does not reach lesions deep in the lung), needle biopsy, or watchful waiting.
The ENB procedure is performed in an outpatient setting and its unique approach increases the chances that a patient will safely obtain a diagnosis and begin treatment, if needed.
"We are pleased to offer a minimally-invasive alternative for patients who have a lesion on their lung that is hard to reach or cannot tolerate a more invasive procedure," said Timothy Barreiro, DO, FCCP, FACOI, FACP. "This is an option that will help many patients."
To learn more about lung disease, detection, and options for diagnosing a lesion in the lung visit HMpartners.org/PHRC.
About the St. Elizabeth Pulmonary Health and Research Center:
The Pulmonary Health and Research Center is focused on lung health and the efficient treatment of pulmonary issues. The center offers comprehensive diagnosis and treatment for patients with a variety of respiratory diseases, with a special focus on the diagnosis and treatment of lung nodules and lung cancer. In addition, the center is an active participant in multicenter clinical trials. For more information contact the center at 330-480-3258.
About Timothy J. Barreiro, DO, FCCP, FACOI, FACP
Dr. Barreiro is a pulmonary and critical care physician specializing in patients with complex breathing difficulties, sleep disorders, interstitial lung disease, asthma and chronic obstructive pulmonary disease. Dr. Barreiro specializes in the management and treatment of patients with lung abnormalities such as pulmonary nodules or abnormal imaging studies of the lungs.
About Humility of Mary Health Partners
Humility of Mary Health Partners is an integrated health system located in the Youngstown/Warren area. It is a region of Catholic Health Partners (CHP) in Cincinnati, the largest health system in Ohio and one of the largest Catholic health systems in the United States. HMHP provides a full spectrum of health care services, including inpatient, outpatient, emergency, urgent care, home care and long-term care. Members are St. Elizabeth Health Center, St. Joseph Health Center, St. Elizabeth Boardman Health Center, HM Home Health Services, The Assumption Village, Humility House, Hospice of the Valley and Laurel Lake. Learn more about HMHP online at http://www.HMpartners.org.
###