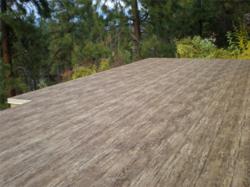 …an ICC-ES report provides reassurance to everyone from Architects, Construction Professionals, and Building Departments, that TUFDEK has undergone stringent evaluation to ensure Code Compliance…"
- Bryan Hughes, President
(PRWEB) February 12, 2012
ICC-ES ESR# 3262 verifies"Tufdek" is code-compliant.
TUFDEK, manufactured by Tuff Industries Inc., received an evaluation report (ESR-3262) from ICC Evaluation Service (ICC-ES), providing evidence that "Tufdek Professional Series Walking Deck and Roof System" meets code requirements. Building officials, architects, contractors, specifiers, designers and others utilize ICC-ES Evaluation Reports to provide a basis for using or approving Tufdek in construction projects following the International Building Code.
ICC-ES President Mark Johnson explains why ICC-ES Evaluation Reports are so important. "Tuff Industries Inc. can now reference the evaluation report to ensure building officials, and the building industry, that Tufdek products meet I-Code requirements," Johnson said. "Building departments have a long history of using evaluation reports, and ICC-ES operates as a technical resource for the building department. Final approval of building products is always in the hands of the local regulatory agency."
ICC-ES thoroughly examined "Tufdek Professional Series Walking Deck and Roof System" product information, test reports, calculations, quality control manuals and other factors to ensure Tufdek is code compliant. ICC-ES Reports are seen as critical to validating Tuff Industries attention to quality products, says Company Owner, Bryan Hughes, "Our niche Products are not widely known or understood throughout North America, an ICC-ES report provides reassurance to everyone from Architects, Construction Professionals and Building Departments, that the Product has undergone stringent evaluation to ensure Code-Compliance by an organization well known and respected for its impartiality and technical expertise. Having this report removes the "fuzziness" that often exists with Standards and individual test reports, and alleviates the burden on all professionals involved, to decipher and make judgment calls as to the Products suitability. Hands down, an ICC-ES Report puts us head and shoulders above our Competition."
About ICC
ICC-ES is the United States' leading source of technical information on building products and building technology for code compliance. A nonprofit, public-benefit corporation, ICC-ES performs technical evaluations of building products, components, methods and materials. The evaluation process culminates with the issuance of reports on compliance with the major U.S. building codes, which are available at http://www.icc-es.org. ICC-ES is a subsidiary of the International Code Council, a membership association dedicated to building safety and fire prevention that develops the codes used to construct residential and commercial buildings, including homes and schools. Most U.S. cities, counties and states that adopt codes choose the International Codes developed by the International Code Council.
Through Branded membranes, Tuff Industries provides proven waterproofing and roofing solutions for balcony and roof-deck applications. As North America's leader in pedestrian traffic bearing PVC deck and roof deck materials, our products provide a proven, attractive, low maintenance and low life-cycle cost solution to any building project. Tufdek membranes, coupled with industry leading system accessories make water intrusion problems on deck areas a thing of the past.
For more information Contact
Ph: 587.999.5930
###