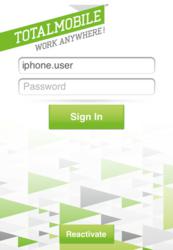 Consumerisation is at the heart of TotalMobile 5
Belfast, UK (PRWEB UK) 20 February 2012
In response to the growing consumerisation of the enterprise and in particular the trend towards Bring your own Device (BYOD), Consilium have announced today the release of TotalMobile™ 5, the only Enterprise Mobility Solution to support all major platforms and deliver a truly consumer grade native experience on all major platforms and devices including iOS (iPhone and iPad), BlackBerry, Android and Windows.
Consilium's Chief Technology Officer, Gareth Tolerton said "Consumerisation is at the heart of TotalMobile™ 5. It is designed so that users enjoy using the app and require minimal training. The key to a successful Enterprise Mobility project is user acceptance which is why we have focused on creating a system that is as slick and intuitive to use as people have come to expect from consumer apps."
The solution allows a vast range of remote workers such as repairs operatives and inspectors to stay connected to their back office systems. Workers can obtain their schedules, access and update case histories and fill out forms all through their choice of mobile device. This improves productivity and customer satisfaction and creates efficiency savings.
Chief Executive, Colin Reid added "We wanted to be able to offer our customers as much flexibility as possible. Not only is TotalMobile™ 5 a multi-platform application, it actually works natively on each platform and device. Solutions for different organisation and user needs can now be deployed easier and faster than ever."
Other unique and exciting features of the TotalMobile™ 5 include TotalView™, a social networking inspired feed of worker activity with open data capabilities. The system can include new web based back office applications to enhance the functionality of a current system. The new proprietary data synchronisation mechanism, TotalMobile Sync™, provides fast seamless data sync across all supported platforms. This allows full offline working regardless of device platform, setting TotalMobile™ 5 apart from other systems on the market.
From this week, TotalMobile™ 5 is available on Apple's App Store and Android Marketplace so users can easily download and connect to their TotalMobile installation.
1. Consilium Technologies Ltd., established in 1985 with Headquarters in Belfast, UK, provide software solutions that revolutionise the way organisations work and the results they achieve. Consilium lead the market with innovative systems that transform costs, efficiency and customer service in mobile working, housing and finance. http://www.ctechs.co.uk
2. TotalMobile Headquarters are based in Belfast, UK and the company have offices in Boston,
M.A., USA. TotalMobile Solutions Ltd. are a subsidiary of Consilium Technologies who have supplied efficiency-saving IT systems to Local Authorities and Housing Associations for over
25 years.
3. More information on the company or TotalMobile™ product can be found at
http://www.totalmobile.co
4. For information on this story, please contact Anna Mulvenna
E: anna.mulvenna(at)totalmobile(dot)co(dot)uk
T: 02890 330111
Tw: @totalmobile
###