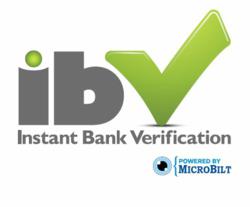 Now is the time for innovation within the lending industry and we have the foresight and technology to get it done
Kennesaw, GA (PRWEB) February 13, 2012
MicroBilt is continuing to develop leading edge risk management systems for small to mid-sized alternative lending sources, even as the traditional banking and lending industry goes through a tumultuous period. An established industry leader, MicroBilt has unveiled its latest breakthrough product called Instant Bank Verification (IBV). IBV is proprietary technology designed to help non-traditional lenders assess the risk and bank account status of applicants in real time.
Instant Bank Verification automatically and instantly provides a lender with six distinct attributes making it easier than ever to gauge the repayment abilities of a loan applicant. The list includes the existence of a specific bank account, amount of time the account has been active, and whether or not the applicant has their paycheck directly deposited to that account.
Additionally, Instant Bank Verification can determine the frequency of these deposits and is able to count the overall number and frequency of NSF instances from an account. IBV will also let you know if the account has a positive or negative balance and what the balance is. All of this is done in real-time over a secure network.
"MicroBilt is making every effort to help businesses in the alternative lending space make better decisions on their borrowers. Now is the time for innovation within the lending industry and we have the foresight and technology to get it done" says Walt Wojciechowski, MicroBilt's CEO. "Our Instant Bank Verification product offers a real-time automated process for lenders, allowing them to make more accurate loan decisions."
MicroBilt is the most comprehensive single source for risk management tools and solutions, specifically designed to help small businesses see opportunity, growth and success. If you are looking for a way to improve loan portfolio value and make your assessments easier to complete and more objective overall, MicroBilt offerings get the job done!
About MicroBilt
MicroBilt is the leader in serving small businesses with data and tools that they need to manage business risk, value private businesses, and make informed lending and hiring decisions. MicroBilt offers the small business owner simple, cost-effective solutions for fraud prevention, consumer financing, debt collection, skip tracing and background screening. With its PRBC® Consumer Report with the FICO® Expansion® Score and its unique, proprietary non-traditional lending data, MicroBilt is the leading provider of alternative credit data to businesses that want to offer credit and other financial services to the over 115 million underserved consumers in the United States.
###