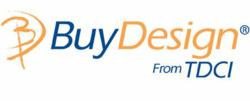 We selected BuyDesign because it provides us with the ability to integrate its functionality seamlessly with SolidWorks,
Columbus, OH (PRWEB) February 12, 2012
TDCI, Inc., the leading provider of product configuration software, announces today at SolidWorks 2012 that TDCI has joined the SolidWorks Partner Program as a Solution Partner for TDCI's BuyDesign software solutions.
TDCI's BuyDesign Suite is built around a product configurator that serves as the central store of knowledge for customized products. It enables marketing, sales, engineering, and manufacturing teams to work collaboratively to define and manage that knowledge. Users access the knowledge through the configurator in business processes such as quoting, ERP, CRM and other enterprise systems. BuyDesign also includes a comprehensive set of online guided selling solutions for Configure-Price-Quote (CPQ) and e-commerce storefronts.
BuyDesign Configurator, Flex2D and Flex3D work with SolidWorks to achieve design automation that accelerates the design and delivery of configured products while reducing cost and freeing valuable engineering time. BuyDesign Flex2D and BuyDesign Flex3D respectively enable 2D template sketches and 3D parts and assemblies created by engineering to be used in the product configuration process. They fully leverage the power of SolidWorks to automate generation of configuration-specific models, drawings, and manufacturing information for individual customer quotes or orders based on user-specified features, options, and dimensions.
One company using BuyDesign with SolidWorks® software is Nook Industries, Inc., a leading manufacturer of linear motion components and linear motion control systems. "We selected BuyDesign (in part) because it provides us with the ability to integrate its functionality seamlessly with SolidWorks," said John McLoughlin, Nook Industries CIO. "Many of our customers are engineers who require the ability to specify uniquely configured products in their designs and to visualize how our products will fit and function within the overall environment. BuyDesign gives us the flexibility and power we need to provide our customers with that capability by leveraging the parametric models we have developed in SolidWorks without the need to maintain custom software."
Learn More about BuyDesign at SolidWorks World 2012.
If you are attending SolidWorks World 2012, take advantage of the following opportunities:

Hear TDCI's Chief Strategy and Technology Officer, Dinesh Dhamija, present "Modeling Considerations for Design Automation – from Sales to Manufacturing" on Wednesday, February 15th from 2:45 to 3:45 PM.
Visit TDCI at booth #129 to see a demonstration of how BuyDesign leverages the combined power of product configuration and SolidWorks.
About Dassault Systèmes SolidWorks Corp.
Dassault Systèmes SolidWorks Corp., a Dassault Systèmes S.A. subsidiary, is a world leader in 3D solutions that helps millions of engineers and designers succeed through innovation. SolidWorks products deliver an intuitive experience in product design, simulation, publishing, data management, and environmental impact assessment. For the latest news, information, or an online demonstration, visit our Web site (http://www.solidworks.com) or call 1-800-693-9000 (outside of North America, call +1-781-810-5011).
About TDCI and BuyDesign
TDCI specializes in helping manufacturers and their distributors streamline the buying process for customized products. TDCI's BuyDesign® software is a comprehensive web-based product configurator and guided selling solution developed to help companies increase sales by becoming 'easy to do business with'. Using BuyDesign, companies also improve profitability by reducing order processing time, cost and errors. Built using a powerful product configurator, BuyDesign provides modular applications for guided product selection and configuration, product visualization, quoting and ordering, drawing and data generation, consumer interest creation and more.
###