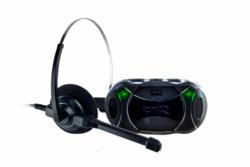 The new Ion IQ belt-pac is super small, super comfortable and super reliable—with incredibly clear sound.
San Diego, CA (PRWEB) February 13, 2012
HM Electronics, Inc. is proud to introduce its new ION IQ belt-pac for drive-thru. The smallest belt-pac on the market today, features new sound enhancement technologies, greater durability and expanded coverage. Test stores drawn from major quick-service chains gave the ION IQ belt-pac a 93 percent approval rating under busy, real world conditions. Managers and employees were quick to rave about its high-impact resistance case, superior sound quality, impressive range, and user-friendly design.
The ION IQ belt-pac features an enhanced radio transmitter improving radio sensitivity to deliver even better clarity to customers in the drive-thru. Along with extending the range capabilities to up to 30-50%, the belt-pac is ideal for outside order taking during peak service hours.
The super compact ergonomic belt-pac literally fits in the palm of your hand—it's that small. But that doesn't mean it's not tough. The belt-pac is built with a Xylex case to protect it when dropped and bumped, completely sealed buttons and an embedded cord connector, make it extremely durable and reliable.
"This is the ultimate package," said Daren Haas, VP of Marketing and New Business Development. "The new Ion IQ belt-pac is super small, super comfortable and super reliable—with incredibly clear sound."
The new ION IQ belt-pac and recently released all-in-one headset, work with the new ION IQ base stations, along with existing Wireless IQ base stations.
About HME
HM Electronics, Inc. is a diverse group of companies providing solutions that enhance productivity and customer service in markets including restaurants, sports and professional audio. Founded in 1971, we sell, service and support products in 89 countries worldwide, via company-owned offices in the U.S., Canada, Europe, and China, and an extensive network of HME-authorized distributors, dealers and service agents. Every day quick service restaurants take over 24 million orders using HME systems. With the recent acquisition of Clear-Com, HME is the world's leading provider of professional intercom systems. To learn more, visit http://www.hme.com..
###