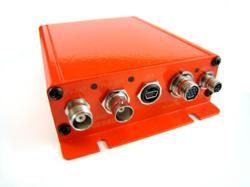 Tustin, CA (PRWEB) February 12, 2012
Brandywine Communications, a company specializing in precise time and frequency products, has signed an agreement with Reach Technologies to become Reach's exclusive reseller for Reach's compact airborne Time Code Processor product.
Gary Smith, President of Brandywine Communications stated- " this arrangement allows Brandywine to offer a broader range of solutions to our customers involved in Flight Testing. At the same time it allows Reach to focus on their core business of data acquisition. This agreement marks a new step in a long-standing relationship between Brandywine and Reach. "
The Airborne Time Code Processor is a compact unit that has been flight qualified. It supports GPS, IRIG B, and Have Quick time code as synchronizing inputs.
Time code outputs are IRIG B and IEEE-1588 PTP. The time code processor comes with optional video annotator channels.
The rugged unit has been tested to MIL-STD-810F and MIL-STD 461E.
Brandywine Communications develops, supplies, and integrates time and frequency products and systems for a diverse base of aerospace, terrestrial and maritime customers.
About Brandywine Communications
Headquartered in Tustin CA, Brandywine Communications is a privately held company serving a wide variety of Government and commercial markets with products for precise time and frequency synchronization. Additional information about Brandywine Communications is available at http://www.brandywinecomm.com.
About Reach Technologies Inc.
Headquartered in Victoria BC, Reach Technologies is a privately held company serving a wide variety of blue chip customers with innovative data acquisition solutions. Additional information about Reach Technologies is available at http://www.reachtest.com
###