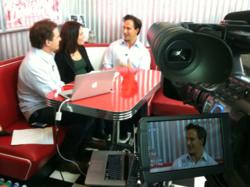 Invest in your customers success
Phoenix, AZ (PRWEB) February 11, 2012
Renegade Recession Made Millionaire by Dan Kennedy will be released March 5, 2011 and registration closes March 10, 2011. Recession made millionaires through out history have launch successful businesses during times of economic turmoil far worst than today's economic situation. Dan Kennedy and many other successful entrepreneurs created successful businesses when people where waiting in line for gasoline and during wars. Renegade Recession Made Millionaire speaks directly to the needs of the marketplace that is searching for an opportunity to succeed in today's economy. Renegade Recession Made Millionaire is going to equipment those entrepreneurs to do just that.
Dan Kennedy is a multi millionaire that has opened several successful businesses over the past 35 years all in economical times far worse than our current situation. In fact he is not alone. The wealthiest business people have started business during recessions. There are core business practices that never change regardless of wars, great depression, gas shortage, and terrorism. That is the influence of communication remains the same. No matter how bad things get globally these core business principles taught in Renegade Recession Made Millionaire remain unshakable.
Secondly, your prospects and eventual customers purchase stories not products or services from you. If you want to change the world and stay in business then you need to change your business story. When you are trying to influence and/or convince others to believe in your story then you must work on your story. In today's social media we are more connected than ever before yet at the same time we are more distrustful. How do we create trust? Tying your story to what you stand for and in the process you show your vulnerabilities that creates trust and invisible lines of connected between your company and the consumer.
Lastly, realize what many huge companies ignore and that is the greatest assets of any business is the list of customers. To be more specific the true wealth is in the relationship with your customer list. As online marketer I know first hand how powerful this can be. Not to long ago I had no list yet always heard others talk about how the money is in the list. I heard that so many times it started to become meaningless. Over time I built up a list and sure enough a small list of two to four thousand can feed you for life. As long as you nurture the relationship. The relationships last regardless of economic times. As part of my Renegade recession made millionaire bonus package I will go into greater detail on how to build and form a relationship with your list.
 
Renegade recession made millionaires bonus is the perfect product for today's entrepreneur Dan Kennedy it responsible for making more millionaires than anyone on the planet. He has the most comprehensive recession wealth plan with in-depth training that will change your life. After having the honor to spend a day and half with Dan Kennedy and six other top marketers I realize that Dan Kennedy is really in the business of changing lives. Yes he know for being the highest paid copywriter in the world and a genius marketer but really the guy changes lives Not just of the business owner but of the sometimes thousands of people tied directly to the success of that business. Check out my Renegade Recession Made Millionaire Bonus.
###