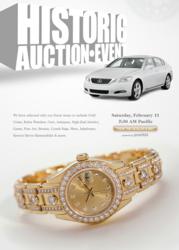 Tehachapi, CA (PRWEB) February 10, 2012
Government Auction announces its Historic Seized Assets Sale with bidding starting at $2.
The auction will feature over 1,500 items to be auctioned off in this one day event. Featured items include rare gold coins, high end fine jewelry, antiques, Rolex watches, art prints & oils, cars, sailing boat, sports & Hollywood memorabilia, and collectibles.
A few of the items to be auctioned off on this historic event will be; Men's Rolex Oyster Perpetual Datejust President Gold Watch, 2007 Lexus GS 350, Original Mills Cherry Slot Machine, 1910-S U.S. $10 Indian Head Gold Coin, 18 kt. Gold, Citrine, Pink Tourmaline, & Diamond Necklace, Cailli Upright Slot Machine, 1795 13 Leaves $10 Gold Coin, 1898-S U.S. $20 Liberty Head Gold Coin, 25.8K 18 kt. White Gold, 6.68CT Diamond Necklace and more.
To view this auction please click the link below
Historic Government Auction - Seized Assets Sale- Saturday, Feb. 11-7:30 AM PST
http://www.proxibid.com/asp/catalog.asp?aid=48707
About Government Auction
Government Auction is a private company, the largest company of its kind to acquire literally thousands of properties and assets. In most cases we acquire these properties and assets at 30% - 50% of actual retail value. This enables potential buyers throughout the world to buy land and invest in assets at discounted pricing.
Contact Info:
Chris Budge
Marketing Representative
Government Auction
Phone: 661-823-1543
###