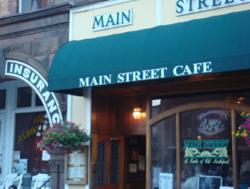 Restaurants ask us to taste their cuisine with hopes of competing for the PZ Award. We can't tell you how many fish and chips' dishes have ended up in our bellies. We thank Main Street Cafe for making theirs our most remembered!

PZ Cuisine
(PRWEB) February 14, 2012
Best fish and chips on Long Island? "Well, it's gotta be a lot like a good piece of bacon. You have to bite into it, give it a little chew and let the flavor make you salivate. It is as simple as that..." says Main Street Cafe patron, Nelson Macleoud, when interviewed by PuZlink's PZ Cuisine Award team.
Continuing, he says...
"Here's the scoop. Grab a chair at the bar early on Trivia night. Whatever you do, don't look up. If so, the evil queen of trivia will rap you on the knuckles and ask, 'Why are you not playing?'. Just keep your head down and you will be okay.
When you catch their wandering eye, ask Darin or Mike for the f-n-chips, they will know what you are asking for. Don't tell anyone else you are ordering that dish, you will only draw attention to yourself (shhh, evil trivia queen). If you do, it is with almost certainty that someone will ask, 'Is this your first time?' The room will go silent.
If it happens, don't panic. Don't panic. Just answer speaking a different language saying, 'I love the f-n-chips, I don't play trivia and I really like your bar. You are a nice person, thank you' and then put your head back down and grab a fork full of the best fish and chips on Long Island. Everything else will no longer matter at the point. That is what happens when you have the best fish and chips on Long Island".
Surrounded by the sounds and interests of a warm mix of unique, friendly people in a world-class village bar setting, guests will enjoy what is put in front of them…for sure. Combining the subtleties of classic flavor with divine texture, Main Street Café earned the title of the best fish and chips on Long Island.
Located down by the Harbor, Main Street Cafe is known as Northport's best spot for high-end pub food. It serves juicy, hearty burgers and other simple pub favorites like onion soup, clam chowder and chicken sandwiches. Keep an eye on the chalkboards for daily specials (Quite unique and wonderfully tasty). The menu has something for everyone. The restaurant also has a classic wooden bar tended by professionals ready to poor full glasses of liquid courage.
Main Street Cafe
47 Main St
Northport, NY 11768
(631) 754-5533
Lunch: Daily, 11:30am - 4:30pm
Dinner: Sun - Thu, 4:30pm-10pm; Fri, Sat, 4:30pm-11 pm.
Payments accepted: Cash, MasterCard, Visa
General services: Eat-in
Parking: Free lot, On-street: metered
Cuisine: American, Bar Food, Burgers
Price level: $$
Features: Dinner, Group-friendly, Lunch
Dress code: Casual
PuZLink.com - "We Build Ideas"
Anthony Calandrino – SET Relations
###