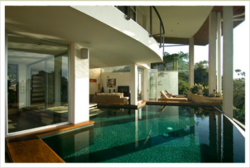 It's not necessary to live like Robinson Crusoe to create a living space that's more in harmony with the planet.
Manuel Antonio, Costa Rica (PRWEB) February 15, 2012
Sustainability and green technologies aren't retro-fitted at Casa las Nubes, which means "Cloud House" in Spanish. Instead, owners Howard and Leah Cloud, along with Costa Rican architect Andres Morales, took great care to incorporate passive cooling features, a rainwater collection system, solar water heating and solar electricity into the design of the home long before the ground-breaking.
Howard explains, "Because of global needs to lesson our dependence on fossil fuels, we wanted to create a more sustainable, energy efficient home showing what resources are right here within an arm's reach in Costa Rica. We harvest the sun for electricity and hot water, and with an annual rainfall of 150" here in the Manuel Antonio area, we have a water catchment system for the 'jugo de nubes' (rainwater)." He adds, "The need to reduce carbon emissions is as important today as ever. Now five years after completion, taking stock of the project's success is a real joy."
Located in Manuel Antonio on the hillside facing the Pacific Ocean in the exclusive Tulemar Gardens residential resort, Casa Las Nubes features a roof designed to capture almost 2,000 gallons of water per inch of rain fall. The collection and filtration system is capable of storing 5,280 gallons for use in the house and gardens. Three sediment filters, a charcoal filter and a final ultraviolet system ensure that guests have the purest water available. As an added benefit, the roof's 10 foot overhangs provide passive cooling, reducing the home's dependence on air-conditioning to maintain comfortable temperatures. The distinctive swimming pool that flows through the middle of the home also contributes to this goal.
Casa las Nubes is still wired to the grid, but the six 190-watt solar panels on the roof generate the majority of the electricity the home requires. A battery system stores the electricity for later use. With the practice of a few ordinary conservation habits, like turning off lights when you leave the room, guests help make sure the clean, green electricity keeps flowing.
But all this eco-friendliness must come with some sort of sacrifice in comfort and luxury, right? Not at all. As many guests can attest, all the features that make Casa Las Nubes a model of sustainability are virtually invisible, and there's no lack of modern conveniences. As Dave Houck, owner of Tulemar Vacation Home Rentals explains, "It's not necessary to live like Robinson Crusoe to create a living space that's more harmonious with the planet. Every detail of Casa Las Nubes reveals the thoughtfulness of brilliant design, and the vacationing guests who stay with us rave about it. They leave with a better understanding of how we all might enjoy the benefits of greener living."
Details like a gourmet kitchen with stainless steel appliances and granite counter tops are good alternatives to petroleum based plastics and composites, providing greater durability and re-usability. The warmth and visual variation provided by the use of locally farmed hardwoods throughout the home directly benefits the farmers and incentivizes sound growing practices.
As a prototype of what's possible, Casa Las Nubes won't be the only example of the marriage of luxury and sustainability. The Clouds have recently completed follow-up project in the challenging northern climate of Homer, Alaska.
###