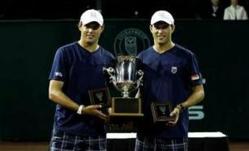 "We're very excited about the expansion of our ProAm from Toronto, Canada to Miami and New York" said ITC President, Alan Goldner
New York City, NY (PRWEB) February 21, 2012
Pending outcomes at Indian Wells, a formidable line-up of tennis celebrities are scheduled to turn up at the Westin Diplomat Hotel in Hollywood, FL on March 17 and 18, to play tennis for the Israel Tennis Centers, a not-for-profit children's charity, and the largest tennis school for children in the world. The event is being co-hosted by the Diplomat's Goldfine Smatt International Tennis Academy.
Pros currently scheduled to appear at the ProAm include doubles champions Mike and Bob Bryan in addition to a host of other top 50 tennis professionals. Depending on Indian Wells, the Pro line-up is also expected to include Brad Gilbert, Andy Ram, Dean Goldfine, Yoni Erlich, Shahar Peer and others. The Israeli players are all alumni of the Israel Tennis Centers.
"We're excited to support this unique organization" said Bob Bryan. "Nobody understands better than we do what tennis can do for children's lives."
Brad Gilbert, Patrick McEnroe and Dean Goldfine played in the ITC's MDC Partners' Celebrity Pro Am in Toronto this past September. The event in Canada is named after presenting sponsor, MDC Partners, international marketing and business transformation organization.
"We're very excited about the expansion of our ProAm from Toronto and New York" said ITC President, Alan Goldner who resides in New Jersey. "Winners of these ProAms will ultimately be invited to compete at the Israel Tennis Centers' in Ramat Hasharon, Israel, home to the Israeli Davis Cup team."
The Miami ProAm kickoff party and fund raising event for the Israel Tennis Centers will take place on Saturday March 17 at the Diplomat, and involve the auctioning of the celebrity Pros to the Amateurs, with proceeds benefiting the children of the ITC.
The Israel Tennis Centers Foundation (ITC) is a 501 (c) 3 non profit organization that has worked for over 35 years to enhance the social, psychological, and physical development of Israeli youth through the medium of sport. Most of ITC Centers are located in disadvantaged neighborhoods or outlying development towns throughout Israel, from Kiryat Shmona on the Lebanese border in the North to Beer Sheva bordering the Negev Desert in the South.
UPDATE: Feb 22nd, 2012. This event has been postponed - for more information please contact Toby Rosner at 416 444-5700 x2505 or trosner(at)israeltenniscenters(dot)org
Contact:
David W. Lippy
Israel Tennis Center Foundation
# # #