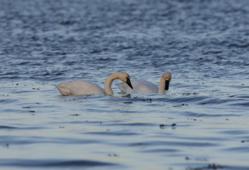 Rich Merritt, Director of Operations for Audubon New York said, "Lake Champlain has long been one of the best birding areas in the state, not least because of the frequent sightings of rarities and vagrants like these beautiful swans."
Plattsburgh, NY (PRWEB) February 12, 2012
The mild winter the East Coast has been experiencing is unusual to say the least. Warm temperatures and open water have made it more difficult to participate in the typical winter outdoor activities. However, there is an upside for birdwatchers.
Sightings of Arctic Tundra Swans at Ausable Point State Park, in Peru, NY, just south of Plattsburgh, have given Lake Champlain bird watchers a once in a lifetime opportunity. The three Tundra Swans, believed to be a family of two adults and a juvenile, have been spotted on Lake Champlain over the past few weeks. Their visit here is rare as they usually migrate from the Arctic to South Carolina and other areas in the southern U.S. With temperature in the region the warmest on record, lakes that usually freeze over simply haven't, which may be what attracted the Arctic Tundra Swans to Lake Champlain.
Tundra Swans are quick and sturdy swimmers that become air bound with a running start and beating wings. While in the air, the flapping of the swan's wings creates a rhythm that gave this swan the nickname "Whistling Swan." Believed to mate for life, Tundra Swans pair up for almost a whole year before breeding. Since these swans migrate from the top of the world they are less accustomed to humans than the other swan species and will shy away from crowds.
So in spite of their reluctance to humans, the Tundra Swans on Lake Champlain have become instant celebrities in an area renowned for great birding. Rich Merritt, Director of Operations for Audubon New York said, "While the mild winter has been a bane to skiers and winter sports enthusiasts, it's been a boon for birders as evidence by the lingering Tundra Swans on Lake Champlain. Lake Champlain has long been one of the best birding areas in the state, not least because of the frequent sightings of rarities and vagrants like these beautiful swans."
###