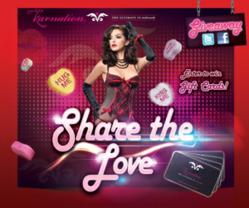 February is also heating up with Mykarnation.com's latest giveaway of hundreds of dollars in gift cards worth $10, $20, and $50.
Pocatello, Idaho (PRWEB) February 10, 2012
No other day of the year provides romantics with a better opportunity to put a whole new perspective on LOVE. What is love? Is it the butterflies in your stomach every time your lover whispers in your ear? Is it the spine tingling sensation you feel when that special someone caresses the small of your back? Is the comfort you find in knowing you belong together forever because your partner completely gets you? However you personally define LOVE, share it this Valentine's Day with romance, seduction, and these five love-enhancing tips from Mykarnation.com:
1. Set the mood. Turn the lights down low, light the tea light candles and scatter more than a hundred silk scented scarlet rose petals bed from "" Bed of Roses Kit in a pathway leading up to a romantic table set with dinner for two or strew them across your sensual satin sheets to create an unforgettable ambiance.
2. Body talk. Be suggestive without saying a word to let him know you're feeling a little frisky. For example, show him a little leg with Stay up Lace Top Sheer Thigh High Stockings from Leg Avenue or give him a sensual surprise by wearing Mimi Rhinestone Pasties under your dress or with nothing at all.
3. Capture the imagination. The X-factor isn't limited to the female persuasion on Valentine's Day. Fellas can take a stand for love in the Knockout Thong, available in black at Mykarnation.com. Made with a cool leatherette material and a cup to enhance his shape, this incredibly sexy thong will make her stand up and take notice.
4. Take control. Get a little playful with gentle bondage while you lock each other up in soft cozy faux red Furry Cuffs by Fetish Fantasy.
5. Engage all the senses. A teasing touch that traces the contours of the body can go a long way to amplify an encounter, but don't forget about the power of the other senses to ignite the fires of intimacy. Tantalize the taste buds with "" divine decadent strawberry Kissable Soy Massage Candle, heighten your natural attraction with Lure Pheromone Attractant lubricant, or stimulate the aural senses with a sexy playlist tuned in just for two.
February is also heating up with Mykarnation.com's latest giveaway of hundreds of dollars in gift cards worth $10, $20, and $50. The online lingerie retailer is encouraging its fans and followers to "Share the Love" on Twitter and Facebook between February 1–14, 2012. Twitter followers that fill out the entry form and retweet the contest can earn even more entries. Visit http://www.mykarnation.com/share to enter today.
Plus, during the entire month of February, visitors will receive a free gift with their purchase of $30 or more online at Mykarnation.com. The free gift includes a travel size pomegranate flavored massage candle by Simply Sensual and a trial sample of ON Natural Arousal for Her - the latest, greatest thing to hit the intimate market this year. While supplies last though February 29, 2012
For more tips on creating the most romantic Valentine's Day ever, visit Mykarnation.com, or follow the company on Twitter @mykarnation and Facebook to get the hook-up on the latest product releases, romance tips, promotions and special events.
About Karnation Intimate Apparel, Inc.
Karnation Intimate Apparel offers the ultimate in intimate. Always fun and a little bit flirty,
Karnation has three physical stores located in Idaho Falls, Pocatello and Twin Falls, Idaho, all designed to help customers turn up the heat in their love life as much or as little as they want to.
Karnation's personal shoppers have built a first-class reputation for putting customers first with unmatched customer service and undivided personal attention. At Karnation, discretion is the name of the game and the company cherishes the customer's privacy. Whether customers want to embrace an innocent, ultra-feminine vibe, unleash an adventurous side, or get a little more creative in the romance department, Karnation makes it easy with an extensive, exclusive selection of top-selling and time-tested products featuring intimate apparel, hosiery, bridal lingerie, plus size lingerie, romantic accessories, romantic gifts, costumes, men's apparel and more.
###