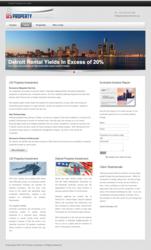 "This is now the greatest time, maybe ever – maybe in history to buy a house (in the USA)"

Billionaire & Real Estate Investor donald Trump
(PRWEB) February 14, 2012
Answering to the demand from the rising number of international investors buying pre-tenanted property in Detroit, a new website called US Property Investment, has been launched to help connect investors with their ideal real estate investment.
High Capital Growth
Research conducted by Fiserv Case-Shiller shows that since reaching its peak in 2006, Detroit has seen property values decrease by 60.5%, however a rising number of short sales over foreclosures have helped drive the median price up in the city's metro area.
At the start of 2012, online hub Trulia, revealed that there has been a rise in US property investment in Detroit with a 3.3% (or $2,215) increase in median property sales price between Oct and Dec 2011, when compared to records for the same period in 2010.
According to Bloomberg Businessweek's forecast for America's Strongest Housing Markets in 2014, Detroit's median home price will increase by 33.1% in the next two years alone, making investment in below market value properties in Detroit an attractive opportunity for those looking to enter US property investment.
High Rental Demand
With 28% of residential mortgages underwater in 2011 according to Colliers International and many people reluctant to sell, there has been a rising demand for rental property in Detroit.
Also Unobtainable mortgage deposits combined with the country's current economic uncertainty has driven Detroit's rental market, with many people opting to lease property rather than buy.
These factors have contributed to a rise in the number of both national and international investors entering buy-to-let property investment in Detroit, with MSN Real Estate emphasising a new pool of investors emerging from the UK, UAE, Russia, Asia, Ireland and France.
Rental yields in excess of 20% p.a.
Offering yields in excess of 20%, Detroit has become one of America's strongest rental markets, with many investors entering property investments from as little as $30,000.
The company behind US Property Investment carefully selects houses in desirable neighbourhoods where the demand for rental properties is strong. After renovating and refurbishing each property to a high standard, tenants are selected to rent the property, helping to ensure investors receive income from day one.
Higher Yields and Lower Cost Properties
Working alongside their partners based in Detroit whom research and source the, USPropertyInvestrment.org can offer higher yields and cheaper Detroit Homes for sale, refurbished and tenanted, than its closest competitors, making their exclusive list of houses the best choice for those looking for below market property.
With maintenance and occupants looked after by a professional management company, the website promotes a truly 'hands-off' investment and also offers 50% finance and cash discounts on selected properties.
For those looking to search for investment property in Detroit, the new portal allows potential buyers to search current stock and learn more about the areas in which they will be purchasing.
For more information about US Property Investment, visit their new website: http://uspropertyinvestment.org/
###