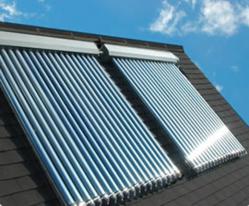 Late Winter Home Shows are an excellent opportunity for homeowners to get their Spring projects lined up.
(PRWEB) February 12, 2012
Houseneeds.com, North America's leading on-line seller of energy-efficient, environmentally friendly home heating, cooling and plumbing products, has announced that they will again be participating in the Vermont Green Living and Log Cabin Show, at the Champlain Valley Fairgrounds in Essex Junction Vermont. The show will run from Friday, February 17th through Sunday, February 19th.
Houseneeds will be looking to inspire homeowners to start planning their spring and summer projects now. The Houseneeds Mobile Showroom will consist of energy-saving environmentally products that can help to make homes smater, warmer and better. Products on display will be their HHNS Solar Evacuated Tube Heating System, Biasi Oli, Gas and Wood Boilers, Rinnai Direct Vent Space Heaters, Tankless Water Heaters, Wood, Pellet, and Gas Stoves, Solar Heating and Hot Water Systems, Rinnai Gas Space Heaters, Tankless Water Heaters, Indoor and Outdoor Wood Boilers, Radiant Heat Pex, Solar Lighting and House Fans, and so much more.
Show hours are Friday, February 17, 12 noon to 7pm, Saturday, February 18, 10am to 7pm, and Sunday, February 19, 10am to 4pm. Show prices are $8 for adults $7 for Seniors and $4 for children. Houseneeds mobile Showroom wil be located in the Blue Pavilion Building in Booths G18 and G17.
For more information on the Fifth Annual Vermont Green Home and Living Show, check out /http://www.americasbestshows.com.
About Houseneeds.com:
Houseneeds.com was created in 1999 in the heart of Vermont's Mad River Valley. Houseneeds.com has made it their mission to bring the best in energy efficient environmentally friendly products from all over the world to homeowners across North America. Houseneeds.com offers Common Sense Heating, Cooling and Green Energy Solutions with a level of friendly expertise that cannot be rivaled anywhere. Contact us at 866-Heat-123 or visit our website 24 hours a day at Houseneeds.com
Contact
Gary Johannesen
Head of Sales
Houseneeds.com
802-583-5523
http://www.Houseneeds.com
About the Author
Joshua Meyer is a freelance journalist based in Montpelier, VT. He received a Bachelor of Liberal Arts from Goddard College in Plainfield, VT in 2000. His focus is on Energy efficient Heating products and Green Technology. Mr. Meyer is currently at work on a children's book that helps explain the current energy and environmental concerns we face today.
###