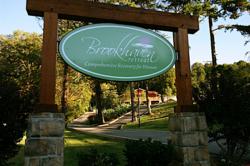 It doesn't matter how you got into a problem. It matters how you come out of it.
(PRWEB) February 21, 2012
Brookhaven Retreat, a unique voluntary residential facility exclusively for women with mental health and/or substance abuse issues, is pleased to announce the additions of Dr. Robert Harned and Dr. Kimberly Quigley, both highly trained psychiatrists, each bringing an enormous wealth of knowledge and experience to the facility.
Robert Harned, MD will serve in the role of Medical Director effective February 1, 2012. Dr. Harned is a board certified psychiatrist who resides in the Knoxville area. He received a BS in Biology from the University of North Carolina at Chapel Hill and continued his studies at Wake Forest's Bowman Gray School of Medicine. He completed his residency in adult psychiatry at Wake Forest Medical Center. Dr. Harned has over twenty years of experience in both inpatient and outpatient psychiatric settings and is looking forward to using his expertise to lead the medical and psychiatric teams at Brookhaven Retreat. Dr. Bob, as he is called, enjoys playing his banjo and spending time on his boat.
Kimberly Quigley, MD has been serving in the role of Attending Psychiatrist since November, 2011. She received her BSLA in German from Georgetown University, studied at Harvard University's Health Careers Program, and completed her doctorate at the University of Tennessee College of Medicine. She went on to complete an internship in pediatrics at Crozer-Chester Medical Center and an adult psychiatry residency at Drexel University College of Medicine in Philadelphia, PA. Dr. Quigley moved back to her hometown of Knoxville, TN in 2006 and has worked in outpatient settings since that time. She has a particular interest in the psychological well being of women and their families. Dr. Quigley enjoys spending time with her five children and being involved in their various activities and hobbies.
About Brookhaven Retreat
Brookhaven Retreat is a women's treatment center nestled on a naturally beautiful 48-acre site secluded in the foothills of the Great Smoky Mountains. It has helped hundreds of women across the United States overcome depression, trauma, anxiety, substance use and a range of other behavioral health challenges. Brookhaven's Founder, Jacqueline Dawes, has predicated its gender-specific treatment on "healing emotional breakage" for women. In this way, she has established a sanctuary and a place where women can feel safe, secure and cared for by a staff of highly trained professionals.
# # #