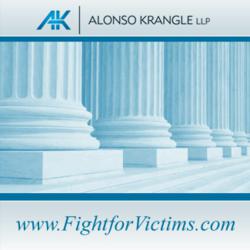 Bringing a case to a successful conclusion is more than just a "win" in our view. It is the first step along the long road our clients must travel to restore their lives, physically, financially and perhaps most important, emotionally.
Melville, NY (PRWEB) February 10, 2012
Attorneys Andres Alonso and David Krangle are proud to announce the formation of their new law firm, Alonso Krangle LLP.  The new law firm will focus on fighting for the rights of serious personal injury victims around the country. Andy and David, attorneys with almost 40 years of collective legal experience, have concentrated their areas of law practice to the handling of significant personal injury cases, defective drug and medical device litigation, construction site accidents, nursing home abuse, medical negligence, qui tam/whistleblower actions and consumer fraud cases.  
"The goal was to step away from the big firm atmosphere and build a law firm that operates on a more personal, human level. The relationships we have forged with our many clients over the years remain strong to this day. Bringing a case to a successful conclusion is more than just a "win" in our view. It is the first step along the long road our clients must travel to restore their lives, physically, financially and perhaps most important, emotionally. There is nothing more professionally rewarding than helping a client along that road. This level of service is the single most important guiding principle of the new firm," David says reflecting on their decision.
While Andy and David are working with victims on many cases, Andy Alonso also currently serves as lead counsel in MDL 2051, In Re: Denture Cream Products Liability Litigation as well as serving as a member of Plaintiffs Steering Committees for MDL 2100, In Re: Yasmin and Yaz Marketing, Sales Practices and Products Liability Litigation, MDL 2197, In Re: Depuy Orthopedics Inc. ASR Hip Implant Products Liability Litigation and MDL 2023 In Re: Bayer Corp. Combination Aspirin Products Marketing and Sales Practice Litigation.  Previously, Andy Alonso has served on various committees and sub committees in complex litigations around the country.  In addition to his MDL work, Mr. Alonso has tried numerous cases in State and Federal Courts resulting in Multi-Million dollar awards. In 2009, Andy Alonso received a jury award of 60 million dollars, one of the ten largest jury verdicts in the country that year.
David Krangle was the managing attorney for his prior firm's new case department. He handled all new cases coming into the office and was responsible for screening hundreds of potential injury cases per day, and tens of thousands of potential intakes per year. David Krangle took the time to speak with new clients about their potential cases and determining their best course of legal action.  David Krangle acted as the firm's liaison with referring attorneys helping them evaluate their potential cases on behalf of their clients.  David Krangle understands the importance of the relationship between law firms that have decided they will be referring cases to another firm, regularly staying in contact with them, and ensuring that their clients were/are taken care of.  Second only to the relationship with the client is the relationship with law firms that honor us with their referrals. David Krangle was responsible for the firm's qui tam/whistleblower litigation practice, where he represented one of the whistleblowers in the case against Pfizer. Pfizer executives had been accused of wrongly promoting several of their drugs. This off label promotion resulted in a then record breaking settlement of over 2 billion dollars. [bloomberg.com/apps/news?pid=newsarchive&sid=a4yV1nYxCGoA]
"We have had the privilege over the years of working with some of the finest lawyers and law firms in the country. Our new firm will strive to further strengthen the bonds we have formed with fellow lawyers who fight for civil and social justice on behalf of their clients," David adds.
"By working side by side with so many different lawyers around the country, both on the litigation side as well as on referrals, we feel that our firm understands what is needed to best represent clients from across the country," states Andy. "We are looking forward to the challenge and to the fight to help injured victims."
The newly formed law firm of Alonso Krangle LLP, has their primary offices on Long Island, with additional offices in New York City and their soon to be offices in New Jersey.
For more information about the firm or to join the fight and be a part of our team, please contact us at 1-800-403-6191 or visit our website, http://www.FightForVictims.com.
Contact:
Alonso Krangle LLP
445 Broad Hollow Road
Suite 205
Melville, New York 11747
Toll-FREE 1-800-403-619
Tel: 516-350-5555
Fax: 516-350-5554
David Krangle, Esq. – dkrangle(at)alonsokrangle(dot)com
Andres Alonso, Esq. – aalonso(at)alonsokrangle(dot)com
###