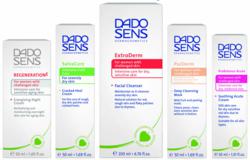 Ghent, NY (PRWEB) February 12, 2012
Bioforce USA is proud to announce that DADO SENS, one of the fastest growing skin care lines in Germany, has a generous sampling program for retailer attendees at the Natural Products Expo in Anaheim next month. All retailers attending this premier natural products show are welcome to come and sample and learn about DADO SENS.
DADO SENS is made by the Börlind Company, known to have the world's most advanced natural skin care and beauty products. They use only first pressings of botanicals and organically certified herbal ingredients to make natural products clinically proven to help millions of customers worldwide.
DADO SENS has been specially formulated by Börlind to address the needs of women who find that most skin care products are not quite enough to solve their special skin needs, both on the face and body. DADO SENS has been formulated with pure botanical oils, natural waxes, thermal and deep spring water to balance and help skin regain its natural equilibrium. Highly sensitive skin requires ingredients that are very mild and as natural as possible, as ingredients in many products such as fragrance, parabens, synthetic colors, and even some natural ingredients can irritate sensitive skin. DADO SENS was developed in cooperation with a leading dermatologist and tested by independent institutes in dermatological studies.
According to Pierce Sioussat, President of Bioforce USA, "We have seen a growing need for this type of specialized skin care. And few products in the natural channel have the kind of clinical studies available from Dado Sens." Sioussat goes on to say that, "We are very happy to have this sampling program in place because we are sure that upon trying the appropriate product for your particular skin you will see the effectiveness of the DADA SENS line." In Germany, where DADO SENS originated, they found that almost 50% of the population had skin with special needs that were helped by the natural action of DADO SENS. "We feel the time is right to make these unique skin care products available to health conscious consumers with various skin issues and once our retailers sample the product they will be anxious to bring it into their stores for their customers. To support this we are offering a show deal to help our retailers get started with the line" said Sioussat.
DADO SENS consists of the following ranges: ExtroDerm for severely dry skin that results in rough, flaky patches; ProBalance for flushed, reddened skin prone to reaction; PurDerm for oily skin prone to occasional blemishes; and RegenerationE, anti-aging care for sensitive, mature skin.
For more information call Eileen Sheets at 800-641-7555, extension 100.
###