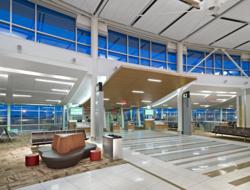 This terminal will set a new standard for 21st century airports, with innovations ranging from artwork that is an integral part of the passenger experience, to the latest concepts in sustainability
Edmonton, AB (PRWEB) February 11, 2012
Air travellers heading to the U.S. from Edmonton International Airport (EIA) will experience an entirely new flying experience when the new terminal officially opens Saturday, February 11, as part of the overall 2012 expansion.
This marks Stantec's tenth major airport project in Canada. One out of every three passengers flying in North America today will travel through an airport where Stantec has completed a significant project.
Stantec, along with partners MMM Group and PCL Construction, worked to create a world-class airport terminal at EIA, designed with passenger experience and comfort in mind.
"We have introduced a number of exciting architectural ideas into the building," said Stanis Smith, Stantec's Senior Vice President for Buildings. "This terminal will set a new standard for 21st century airports, with innovations ranging from artwork that is an integral part of the passenger experience, to the latest concepts in sustainability".
Architectural highlights of the new terminal include:

The first "Living Wall" ever incorporated into an airport terminal, which will use hydroponically-fed plants to enhance indoor air quality,
Unique commissioned art and sculpture,
Terraced roofs that maximize natural light and views of the landscape, making wayfinding intuitive,
A stunning new entry experience that says "Welcome to Edmonton" to all passengers arriving on U.S. or international flights,
The latest retail and food & beverage concepts, and
A sustainable design that will be one of the first airports in North America to formally apply for LEED® certification
"A world-class city deserves a world-class international airport, and that's what this is all about," says Reg Milley, EIA President and CEO. "From the art and architecture to the sustainability features and even the furniture, the newly expanded airport is designed to deliver a superior customer experience. It has been designed to be an airport our community can be proud of."
About Stantec
Stantec provides professional consulting services in planning, engineering, architecture, interior design, landscape architecture, surveying, environmental sciences, project management, and project economics for infrastructure and facilities projects. We support public and private sector clients in a diverse range of markets at every stage, from the initial conceptualization and financial feasibility study to project completion and beyond. Our services are provided on projects around the world through approximately 11,000 employees operating out of more than 170 locations in North America and 4 locations internationally. Stantec is One Team providing Integrated Solutions.
###