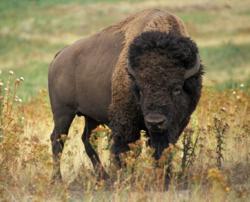 "We can all do our part no matter how small it is, in the things we do in our daily lives. Please go to earthrangers.com to learn more about biodiversity and how you can help protect animals like the plains bison" - Patrick Chan
Woodbridge, Ontario (PRWEB) February 13, 2012
Patrick Chan, world champion, Olympian and three time world record holder joins Earth Rangers' Bring Back the Wild!™ program to help protect Canada's wild plains bison.
Bring Back the Wild!, a collaborative effort between Earth Rangers and The Nature Conservancy of Canada, educates children and their families on the importance of biodiversity and enables them to take direct action to help protect animals and the wild spaces they need to survive.
"It is important to me for children, youth and adults to know about the environment, biodiversity and how to protect animals and their habitats," says Patrick Chan.
Currently identified as Threatened by the World Conservation Union, plains bison are North America's largest land animal.
Plains bison primarily rely on a grass based diet and as a result of climate change, fluctuating temperatures turn snow into ice which makes it difficult for bison to reach the grass they need to survive.
Wild plains bison are also a keystone species in Canada's grassland ecosystem because they help maintain the specialized habitat upon which so many other species depend.
"I love the fact that plains bison can jump six feet high!" says Chan. "If only we could slap a pair of skates on their feet and teach them how to spin, we would have some serious competition! But seriously, we can all do our part no matter how small it is, in the things we do in our daily lives. Please go to earthrangers.com to learn more about biodiversity and how you can help protect animals like the plains bison".
Earth Rangers' Bring Back the Wild! program protects wild plains bison in the Old Man on His Back Natural Area in Saskatchewan by ensuring the bison in this area have a safe habitat to call home.
Earth Rangers' Bring Back the Wild! Plains Bison Project is generously sponsored by Just Energy.
People can support Patrick Chan's campaign at http://www.earthrangers.com/bbtw/profile120994.
Children and families can also start their own Bring Back the Wild! campaign and get more information at earthrangers.com.
About Earth Rangers
Earth Rangers is an award-winning charitable organization dedicated to educating children about biodiversity loss and empowering them to Bring Back the Wild™. Building on children's natural connection to wildlife, Earth Rangers' focus is to communicate to children a positive science – based message on the importance of protecting biodiversity and adopting more sustainable behaviors. Through programs including a children's website – earthrangers.com, a permanent studio at the Royal Ontario Museum and a national Education Outreach Program featuring live Animal Ambassadors, Earth Rangers is able to reach, inspire and engage millions of children each year to take action to help ensure the lasting survival of species in Canada.
Please explore Earth Rangers Online Community:
earthrangers.com (children)
earthrangers.org (corporate)
ercshowcase.com (building tour)
youtube.com/user/EarthRangersBBtW
facebook.com/bringbackthewild
twitter.com/@EarthRangers
###