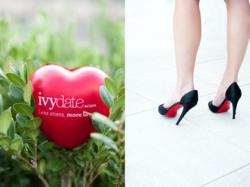 "We want people to make meaningful connections. So we've created a community that connects extraordinary people through fantastic experiences."
New York, NY (PRWEB) February 13, 2012
This Valentine's Day may just be the best ever for New York City singles. On Tuesday, 400 of the smartest, most accomplished singles in town are about to throw it down—1920's style.
IvyDate, the premier introduction network for smart, driven singles, will be hosting a Great Gatsby-themed Valentine's party at the stunning Penthouse Lounge of the Gansevoort Park Avenue Hotel. Guests will include the most eligible doctors, lawyers, entrepreneurs, artists, engineers, and academics in the city.
The event is IvyDate's way of showcasing its commitment to excellence. The company is already known for the individual attention it gives each member: everyone in the IvyDate community has been hand-selected by a special Admissions Committee, and individual introductions are made via e-mail every week. The focus on quality ensures that each and every member is interesting, dynamic, and accomplished.
"The purpose of IvyDate is to make it easy for great people to meet each other," said co-founder, Philipp Triebel. "To do that, we bring together the most interesting men and women at the best venues New York City has to offer."
IvyDate has thrown three parties previously, attracting more than 1,100 attendees at venues such as Trump Soho and the Hudson Hotel. In addition to upscale events, IvyDate offers its members access to personalized matchmaking, as well as its new think tank, CheckMate. Across all its endeavors, IvyDate's vision remains the same:
"We want people to make meaningful connections," said co-founder, Beri Meric. "So we've created a community that connects extraordinary people through fantastic experiences."
The Great Gatsby Valentine's begins at 7 PM, and lasts until 1 AM. There is no cover for IvyDate's guests. To view photos from previous IvyDate events, visit the IvyDate website. For more information, please contact support(at)ivydate(dot)com.
###