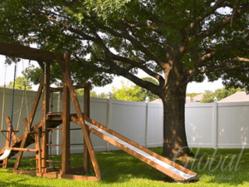 Vinyl fence prices expected to rise by at least 10 percent by Spring
Lumberton, NC (PRWEB) February 14, 2012
With a dedication and passion towards producing high quality American-made products, Global Fence and Gate continues to be one of the leading online suppliers of vinyl fence options as well as a wide variety of aluminum fence designs. And with vinyl fence prices expected to rise by at least 10 percent by the time Spring rolls around, there is no better time to purchase a vinyl fence for a home or business than today. Below are just a few reasons why.
5 Reasons to Buy Vinyl Fence from Global Fence and Gate:
1. They carry only Sentinel products which are all American-made.
2. They offer a Limited Lifetime Warranty on all of their vinyl fence products.
3. They offer free shipping on select orders.
4. Vinyl fences are practically maintenance-free.
5. They offer a wide selection of vinyl fence options to suit most budgets and styles.
Vinyl Fence Options May Include:

Privacy vinyl fences (available with or without lattice work)
Shadow Box vinyl fences
Pool Code vinyl fences
Semi-Privacy vinyl fences
Picket vinyl fencing (available in Wide, Narrow or Puppy)
Scalloped vinyl fencing
Ranch Rail vinyl fencing
Cross Buck vinyl fencing
Additionally, purchasers of vinyl fence from Global Fence and Gate will have a variety of options to choose from with regards to vinyl fence post caps as well as gate hardware.
Aluminum Fence
In addition to offering customers vinyl fence options, Global Fence and Gate also offers an equally impressive array of aluminum fence options for home, business and industrial use. Some quick facts about their aluminum fence products include the following:

Aluminum fence panels and posts are comprised of 6000 Series aluminum, a premium grade of aluminum material.
All of their products are coated using an environmentally-friendly electrostatic powder coating process, leaving the aluminum fence strong as well as weather proof.
Aluminum fences are guaranteed for the life of home ownership.
Fences for Every Taste
Global Fence and Gate offers home and business owners the opportunity to add a sense of style and sophistication through the many options of vinyl fence and aluminum fence. Global Fence and Gate's products are 100% American-made and built to last. For any property owner thinking of making improvements to the exterior of their home or business via fence products, consider making the purchase from one of the premier leaders in the industry whose accolades include:

An excellent customer service record
Access to 100% American-made products
A leading supplier in aluminum fence, vinyl fence, aluminum estate gates, and more.
Give Global Fence & Gate a call today at (866)776.3230.
###