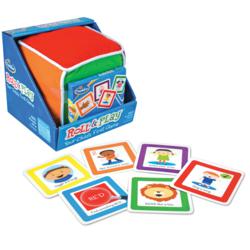 Alexandria, VA (PRWEB) February 15, 2012
ThinkFun®, Inc., the world's leading developer of addictively fun games that sharpen your mind, introduces Roll & Play™, the first game ever designed just for toddlers. Roll & Play marks ThinkFun's expansion into the toddler market, joining an expansive portfolio of award-winning games and apps that build brain power through creative play.
Designed for parents to play with their children, Roll & Play provides a loving and joyful first game experience to build confidence while encouraging creativity, active play, and gross motor skills. Roll & Play features a simple, eye-catching design to engage children 18 months to 3 years of age in developmentally appropriate activities that teach about colors, counting, emotions, and more.

Roll & Play includes a large plush cube with a different bright color on each side and 48 color-coded cards in six categories: Actions, Animal sounds, Body parts, Colors, Counting and Emotions. Roll the cube, choose a matching card, and act out activities designed to delight the toddler set, such as:

"Play pat-a-cake" (Action)
"Bark like a dog" (Animal sounds)
"Rub your belly" (Body parts)
"Find something green" (Colors)
"Give 1 hug" (Counting)
"Make a happy face" (Emotions)
Endless Learning with a Focus on Fun *
With a range of activities carefully selected to support different phases of toddler development, Roll & Play provides hours of entertainment, building language skills and image/word recognition through creative exploration. Roll & Play gently introduces the basics of game play – taking turns and following rules – without the pressure of competition. Roll & Play draws out natural behaviors that toddlers already want to express, and the game can be easily adapted to fit a child's abilities and interests.
The suggested retail price for Roll & Play is $19.99. See more information and product video at http://www.thinkfun.com/rollandplay.
About ThinkFun Inc.
ThinkFun is the world's leader in addictively fun games that challenge your mind and inspire creative thinking. Over 25 years ago, ThinkFun was founded with a dream to change the world through play. It continues to expand on that dream every day with games, mobile apps and global education programs. To learn more about ThinkFun, go to http://www.thinkfun.com.
ThinkFun, the ThinkFun logo, and Roll & Play are trademarks or registered trademarks of ThinkFun Inc. All other trademarks are property of their respective owners. Copyright © 2012 ThinkFun, Inc. All rights reserved.
###