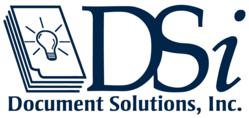 Our quick and easy-to-use collection tool saves the costs and hassles of having technicians do on-site collections. But increasingly we are seeing RGC used as part of a corporation's overall Information Management policy.
Nashville, TN (PRWEB) February 16, 2012
As the volume of data continues to escalate, law firms and corporations are constantly looking for ways to save money and streamline processes. Fortunately, as the electronic discovery industry matures, certain companies – like Document Solutions, Inc. (DSi) – are putting their considerable experience and technical expertise to work in creating solutions for their clients.
DSi, a leading e-discovery and digital forensics company headquartered in Nashville, Tenn., has introduced DSi Remote Governance and Collections platform (RGC): a proprietary method that easily identifies, collects, verifies, filters and transfers data in a timely, secure and cost-effective manner.
"I know the term 'remote collection' is used a lot in our industry and can be applied to a myriad of devices and types of technology. This is not software on a memory stick," said Tom Turner, DSi president and co-founder. "RGC is an exclusive combination of tested hardware and systems that allows e-discovery to be handled more efficiently and flexibly than ever before, no matter the number of devices or locations involved."
RGC is configured by DSi's technicians according to the client company's requirements and seamlessly integrated behind the company's firewall. Maintaining strict standards for data integrity and security, the platform can defensibly gather data from any accessible device on the network, including computers, servers, smartphones, tablets and other devices. Various filters can be applied either during or after collections to remove non-relevant or duplicative files, saving time and money during subsequent processing or storage.
Additionally, collection can happen at any time, day or night, without disturbing the end user in any way and with minimal demand on internal IT resources. In fact, collection can be done covertly without informing custodians, so they are not aware the collection is even taking place.
"DSi's programming team has created a quick and easy-to-use collection tool that saves the costs and hassles of having technicians do on-site collections," said John Burchfield, DSi vice president of business development. "But increasingly we are seeing RGC used as part of a corporation's overall Information Management policy."
Burchfield explained that the platform earned the name "Remote Governance and Collections" because its uses have already evolved beyond something that simply collects data to managing it.
"Businesses see the benefit in utilizing RGC's bank of services – such as data mapping, data backups, security and automated deletion points – to smoothly implement effective internal information governance policies," said Burchfield.
RGC's functions also include recovering deleted files and/or emails, malware analysis, password cracking and forensic analysis.
"I've always heard it said that for anything you want, there are three options: 'fast turnaround, high quality or low cost' and that you can only choose two of the three. But we've created an offering that meets and surpasses all three of those ideals," said Turner. "The real question is, 'Why isn't everyone using this already?'"
About Document Solutions, Inc.
Serving law firms and corporate legal departments nationwide, Document Solutions, Inc. (DSi) is a litigation support services company that provides a wide range of traditional and technology-driven services, including Electronic Discovery, Digital Forensics, Data Recovery, Early Case Assessment, Web Review, Consulting, Hosting, Near De-Duplication, Photocopying, Printing, Trial Boards, Document Management, Document Scanning, Imaging, Optical Character Recognition and more. Founded with an intimate knowledge of the legal community's essential need for unimpeachable quality under rigid time constraints, our staff of highly trained specialists will help you harness today's most current technology to gain a competitive advantage. DSi is headquartered in Nashville, Tenn. and also has offices in Knoxville, Tenn. and Cincinnati, Ohio. http://www.dsi.co.
###