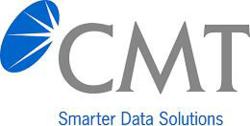 This gives us the foundation to aggressively expand our solution and service offerings in 2012 and achieve even greater results.
SANTA CLARA, Calif. (PRWEB) February 13, 2012
Technology solutions provider Computer Media Technologies (CMT) closed the books on the most successful year in its 27-year history in 2011, paving the way for continued ambitious growth in 2012.
Despite continued economic uncertainty and tight corporate budgets, CMT defied trends this past year as annual sales revenue climbed 101 percent compared to 2010. CMT also established new benchmarks in its partnerships with leading IT manufacturers and customers, CMT CEO Kurt Klein announced today.
"CMT's commitment to provide customers with comprehensive data management solutions and services within their limited budgets propelled us to this impressive performance in 2011," Klein said. "It's a testament to our staff's dedication to customers, resourcefulness in meeting each customer's needs, and expert understanding of market-leading technologies. This gives us the foundation to aggressively expand our solution and service offerings in 2012 and achieve even greater results."
A number of factors contributed to CMT's record performance, Klein said. Significant sales growth in its core data management and data protection solutions, especially to new and existing customers in the Northwest and Southwest, led the way. CMT also saw a sharp rise in sales of email archiving and enterprise storage solutions, along with its professional services offerings. To meet customers' needs, CMT expanded its regional sales teams and added 15 engineers for professional services support.
In 2012, CMT has already introduced initiatives around new products and alliances, along with the launch of its managed services and cloud portfolio hitting the market this quarter. Zen Managed Solutions (http://www.gocmt.com/zensolutions) will offer customers a comprehensive suite of easy-to-deploy, scalable IT services and cloud-based solutions for data management, backup, email archiving, security and endpoint protection. In addition, CMT has opened a new regional office in Bellevue, Wash., with an open-house reception planned Wednesday (Feb. 15). The office employs 10 technical, sales and administrative staff to better meet the needs of its customers, including several Fortune 100 companies, in the area.
In 2011, CMT continued to grow relationships with leading partners through its expertise and leadership in the marketplace. Symantec named CMT as a recipient of its North American Partner Award, which salutes partners who have invested in Symantec and demonstrated expertise and success in key solution areas and growth markets. This is the third time since 2007 that Symantec has honored CMT, which is a Symantec Platinum Partner and Symantec Master Certified, as a Partner of the Year.
Overall, sales of Symantec products and services by CMT more than doubled, from $22 million in FY10 (April-March) to $48 million in FY11.
"CMT continually delivers high-performing solutions and services with Symantec and provides added value for our joint customers," said Randy Cochran, vice president, Americas Channel Sales, Symantec Corp. "CMT has demonstrated a deep investment in Symantec and a commitment to our partnership, and I'm pleased that investment has contributed to their success."
CMT also reached Platinum Partner status in the NetApp Partner Program in 2011, following NetApp's invitation to participate in its FastPath development program for the second year in a row. Through FastPath, NetApp provides training and incentives to growing solution providers that enable them to reach Platinum status more quickly.
Sales of NetApp solutions and services soared from $4 million in FY10 (May-April) to $11.2 million in FY11 for CMT.
"Collaborating with our partners to help them increase their revenue, grow their business and succeed in capitalizing on new opportunities through the NetApp Partner Program and innovative programs such as FastPath is central to our business strategy," said Todd Palmer, vice president, Americas Channels, NetApp. "CMT has emerged as a strong partner in delivering innovative data management and storage solutions that add value for our mutual customers, which ultimately helps customers accelerate business outcomes and gain a competitive advantage."
About CMT, Inc.
Computer Media Technologies (CMT) provides efficient computing solutions for high-performance data security, storage, virtualization, consolidation and infrastructure management. The company has nearly 30 years of experience as a supplier of cost-effective services for IT optimization and consolidation. CMT maintains the highest levels of partnership accreditation with the world's leading IT manufacturers including Symantec, NetApp, Brocade, Quantum, Servertech, Damac and VMware. Corporate headquarters are located at 590 Laurelwood Road, Santa Clara, CA 95054.
Symantec and the Symantec Logo are trademarks or registered trademarks of Symantec Corporation or its affiliates in the U.S. and other countries.
NetApp, the NetApp logo, and Go further, faster are trademarks in the United States and/or other countries. The use of the word "partner" or "partnership" does not imply a legal partnership between NetApp and any other company.
# # #