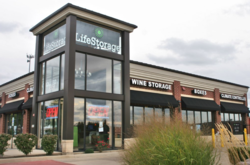 We want to stress to those currently in need that we are here for them and are looking for more ways that we can help.
Mokena, IL (PRWEB) February 13, 2012
LifeStorage, Chicago storage provider for home and business, records management and office solutions, is continuing its food-drive efforts at LifeStorage Mokena for the Frankfort Township Food Pantry. The drive started during the 2011 holiday season with an emphasis on raising food and supplies for families for Thanksgiving and Christmas. Due to the sustained success they've had, LifeStorage Mokena is not only continuing the drive, but plans on growing the drive through 2012 with an emphasis on helping the Food Pantry and the community. In an attempt to bolster interest, LifeStorage is also holding a raffle for a gift basket, with the drawing occurring on March 31st. Each food donation or cash donation of $2 or more nets a person one ticket.
Having collected over 12 bags of food, personal supplies such as baby products, razors, shampoo, and other toiletries, and even toys and books, LifeStorage Mokena has directly impacted the town where it does business. "We would like to thank all who have been generous to our efforts during the holiday season. We have had the donations come from our tenants and from those who seen our advertising, and not only are we grateful, but the Frankfort Township Food Pantry is as well," said Kelly Butt, LifeStorage Mokena Store Manager. "We want to stress to those currently in need that we are here for them and are looking for more ways that we can help, and have further plans to help provide beyond our current food drive."
For LifeStorage Mokena Store Manager Megan Tolbert, the urgency of the drive and spreading the word is even more paramount. Now that the holidays have passed and the time for giving not at the forefront of many peoples' minds, they don't want to lose the positive momentum they've gained.
"Our work to help the community come together to donate to the Frankfort Food Pantry will be an on-going effort, with no end in sight while there are people still in need. There is a deadline of March 31st for the raffle that we're holding. We're doing this to try to encourage donations at this time more than ever because while people feel very giving during the holidays, people are still in need of food and other necessary supplies all year round," Tolbert said.
For those interested in donating, please visit the LifeStorage Mokena facility, or call 815-412-3092.
###