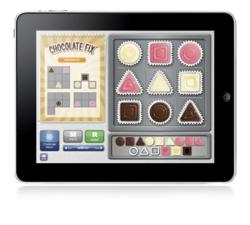 "For years, Chocolate Fix fans have come to us requesting 'more please!' With this new app, we're thrilled to expand the play experience."

- Bill Ritchie, ThinkFun co-founder & CEO
Alexandria, VA (PRWEB) February 21, 2012
ThinkFun® Inc., the leading developer of addictively fun brain games that stretch and sharpen your mind, is pleased to announce that its award-winning Chocolate Fix game is now available in the Apple App Store for iPad, iPhone and iPod touch.
The Chocolate Fix app expands on the innovative board game of the same name, offering 400 new challenges and four levels of play from Easy to Expert. A charming and clever logic game set in a Chocolate Shop, Chocolate Fix is a fun and satisfying way for players of all ages to sharpen their logical deduction skills.

Similar to Sudoku, Chocolate Fix requires you to examine and combine clues carefully to unlock the solution and move on to the next challenge. Players must use the clues provided, including shapes, colors, and orientation, to get each chocolate in the correct place in the chocolate box. Every perfect solution moves the player forward to the next challenge.
A Sweet Deductive Reasoning Game - Great for All Ages! *
Don't be fooled by the colorful candy graphics – this seemingly sweet puzzle can become diabolically tricky! Challenges range from Easy to Expert, so players of all ages and abilities – kids to adults – begin at an appropriate level and build confidence as they work their way up.
A New Way to Play at Home and On-The-Go *
"For years, Chocolate Fix fans have come to us requesting 'more please!'" said Bill Ritchie, co-founder and CEO of ThinkFun. "With this new app, we're thrilled to expand the Chocolate Fix play experience. For those who love the feel of hands-on play, the 400 new challenges can be played with the board game. For those looking for a brain workout on the go, it's all there on your mobile device!"
Chocolate Fix joins ThinkFun's current line of successful mobile apps - including their classic app Rush Hour and last year's Solitaire Chess. Each of these apps is designed to push your brain in different ways and continually sharpen your thinking.
Chocolate Fix is available in a free version, with 30 challenges, from Easy to Expert. The full Chocolate Fix app contains 400 challenges from Easy to Expert and is available for $2.99 from the App Store. The app can be downloaded by clicking here or going to http://www.itunes.com/appstore.
The Chocolate Fix board game is currently available from major retailers for $19.99.
About ThinkFun
ThinkFun is the world's leader in addictively fun games that challenge your mind and inspire creative thinking. Over 25 years ago, ThinkFun was founded with a dream to change the world through play. It continues to expand on that dream every day with games, mobile apps and global education programs. To learn more about ThinkFun, go to http://www.thinkfun.com.
ThinkFun, the ThinkFun logo, and Chocolate Fix are trademarks or registered trademarks of ThinkFun Inc. All other trademarks are property of their respective owners. Copyright © 2012 ThinkFun, Inc. All rights reserved.
###