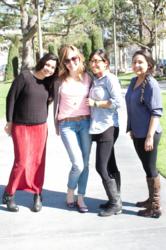 Los Angeles, CA (PRWEB) February 11, 2012
Students at the downtown campus of FIDM, Los Angeles's fashion college, have a one-word message for their boyfriends this Valentine's Day—and it's not Gucci or Prada. It's much less expensive.
"Relax!" is the simple piece of advice they would like to give their romantic partners.
"I think the whole thing is silly," admits Fashion Design major Lauren, pulling her earplugs out. "My boyfriend and I pick another day during the month and call it the non-Valentine's Day. It's no big deal."
Merchandise Product Development major Marie agrees. As much as she wouldn't mind being whisked away to LAX for a surprise weekend in London, she is not counting on it. Instead, "we'll probably go out to the Olive Garden for dinner, or maybe the Americana in Glendale." She is eagerly looking forward to their yearly exchange of Godiva chocolates.
On a campus where thought goes into what you wear each day, most students are winging it on Valentine's Day. Except for Amy. The Fashion Design major, who is continuing for her Bachelor's in Business Management, is planning to wear something special for her Valentine's Day skype with her long-distance boyfriend in Belgium.
"We skype every day. Usually, I'm in pajamas, with no makeup and bed head hair. But I'll make an effort to look good that day, from the waist up anyway, where he can see me," says Amy. Back in Belgium, they would be exchanging cards and chocolates, just like in America.
According to FIDM's Fashion Club blog, greeting cards have been a Valentine's Day tradition for the past 100 years, with Valentine's second only to Christmas for card sales!
There is one simple thing most FIDM students want to do this Valentine's Day, and you don't need a boyfriend to do it: Go to the movies to see The Vow, starring Rachel McAdams and Channing Tatum.
"Those actors are a guilty pleasure that we all need right now, confesses a group of Visual Communications majors, giddy at the prospect of seeing the romantic drama and having a good cry with friends.
With four dynamic California campuses, FIDM/Fashion Institute of Design & Merchandising is the premier west coast fashion design school, educating for careers in fashion, graphic design, interior design, and entertainment. FIDM's graduates include renowned designers like Monique Lhuillier, Emmy and Academy Award-winning costume designers, top fashion industry executives, and entrepreneurs.
###