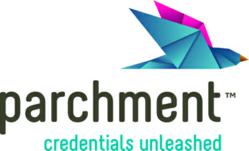 The new funding will support the company's aggressive plan for growth, accelerating its product development, employee recruitment, and expansion in the higher education market.
Scottsdale, AZ (PRWEB) February 13, 2012
Bolstered by its burgeoning success last year, the leading education credentials data pioneer Parchment Inc. has raised $6 million in its Series C round of financing led by Salmon River Capital LLC. Additional financiers include Michael Chasen, President and CEO of Blackboard Inc., Novak Biddle Venture Partners and other existing investors. The new funding will support the company's aggressive plan for growth, accelerating its product development, employee recruitment, and expansion in the higher education market. The company is led by education technology entrepreneur, CEO Matthew Pittinsky, Ph.D., who cofounded and helped build Blackboard into a $1.65 billion leader in the eLearning marketplace.
"In a knowledge economy, where skills and training matter more than ever, education credentials are critical for embodying what we know and how well we know it," said Pittinsky. "Through our credentials data solutions, we enable K-12 and higher education leaders, as well as individual learners, to leverage the power of an increasingly valuable category of data. We are thrilled to have a fund as expert, committed, and successful in the education industry as Joshua Lewis's Salmon River Capital to help us realize this opportunity."
Salmon River Capital is a specialized private equity and venture capital firm committed to building exceptional technology-enabled enterprises in a select set of industries, including education/training, healthcare information technology, financial services technologies, online media, and information utilities. "It's a rare opportunity to be part of a company that is building a critical piece of the education technology infrastructure — the ability to electronically exchange, analyze, and personally manage credentials," explained Salmon River Capital founder and managing principal Joshua Lewis. "Add to that an experienced management team at the helm and you have the critical ingredients to build an impactful business."
Through Docufide® by Parchment, the leading transcript exchange and intelligence platform, schools and colleges exchange student transcripts and capture credentials data in a secure and easy-to-use web-based system. The company's latest offering, Parchment.com, is a free service that helps students achieve their academic and career goals by securely storing and analyzing their credentials data. The tool uses unique statistical modeling and crowdsourcing to let students gauge their chances for college admission, be matched with colleges aligned with their knowledge and skills, and send academic records to their colleges of choice.
In 2011, Parchment tapped Pittinsky to lead the education data management company as it increased market share and launched new products. Parchment has grown to capture 30 percent of the American high school market, and last year doubled the number of electronic transcripts it delivered to 1.6 million through its product and services for educational institutions and individuals. To support this expansion, the company moved its office headquarters to Scottsdale, Ariz., and doubled the size of its staff.
An innovative approach, strong leadership team, and attractive market position has helped Parchment secure $10.5 million in funding since 2010. With the new funding, Lewis has joined the Parchment Board of Directors.
About Parchment
Parchment's mission is to unleash education credentials by unlocking the critical data they embody. A credentials data company, Parchment works with institutions and corporations around the world helping people collect, promote, and share their education credentials in simple and secure ways. At Parchment.com, students can research colleges and discover their chances of admission, see how they compare with peers, get college recommendations, and send official transcripts when they are ready to apply. The company's Software-as-a-Service (SaaS) offering, Docufide® by Parchment™, is the leading transcript exchange and intelligence platform. The solution enables the secure, rapid exchange of millions of electronic transcripts and other student records among nearly 9,000 schools and universities, six state education agencies, and hundreds of thousands of individuals. Founded in 2003, Parchment Inc. is a venture-backed company headquartered in Scottsdale, Ariz., with offices in Los Angeles, Calif. Visit http://www.parchment.com/company for more information.
###