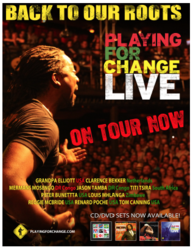 PLAYING FOR CHANGE 2012 "Back to Our Roots" Tour Stops At Berklee Performance Center (Boston)
Boston, MA (PRWEB) February 10, 2012
Scullers Jazz Club presents PLAYING FOR CHANGE featuring street performers from all over the world at Berklee Performance Center, 136 Massachusetts Avenue, Boston, Massachusetts, Friday, March 2 at 8:00 pm. Tickets at $45.00 and $35.00 are on sale now at http://www.berkleebpc.com, by calling 617‐747‐3161 or at the Berklee Performance Center Box Office
Producer Mark Johnson's Playing for Change: Songs from Around the World, released in 2009, established a forum for street musicians from around the globe, the invisible army of raw talent that exists outside the conventional margins of the music business. Among those raw talents was vocalist Clarence Milton Bekker, a native of Suriname who developed his craft in his adopted homeland of Holland and eventually crossed paths with Johnson on the streets of Barcelona.
Propelled by the strength of his performances on Playing for Change - and his subsequent performances as part of the internationally touring Playing for Change Band - Bekker steps into the spotlight for a solo album, Old Soul, (Playing For Change/ Concord Music Group) set for release on February 28, 2012.
Recorded in Santa Monica, California, Old Soul captures the vintage American soul music that awakened Bekker's musical consciousness when he was still a young boy in Holland in the 1970s and early '80s. Producers Reggie McBride and Mark Johnson, assisted by a crew of veteran soul musicians directly connected to that seminal period, take Bekker on a trip back in time to revisit the powerful sounds originally crafted by iconic figures like Otis Redding, Al Green, Sam and Dave, and many others.
The 2012 Playing For Change Band lineup will feature renowned and wildly diverse musicians from around the world, making stops in major cities across the USA and Canada including Chicago, New York, Boston, Toronto, and Pittsburgh. The line‐up includes:
Grandpa Elliott (vocals/harmonica) - USA. Clarence Milton Bekker (vocals) - The Netherlands. Mermans Mosengo (vocals/guitar/percussion) - Congo. Jason Tamba (vocals/guitar) - Congo. Titi Tsira (vocals) - South Africa. Peter Bunetta (drums) - USA. Reggie McBride (bass) - USA. Tom Canning (keyboards) - USA. Renard Poche (lead guitar) - USA. Louis Mhlanga (flying guitar) - Zimbabwe
The group's first single in 2009, an interpretation of the Ben E. King classic "Stand By Me," saw a pastiche of musicians from around the world contributing verses using a mobile recording studio manned by producer Mark Johnson, who co-founded Playing For Change. The video has since accumulated over 38 million views on YouTube, with all Playing for Change "Around the World" videos generating a total of 100 million + views.
Watch members of Playing for Change discussing the project on The TODAY Show
See photos of Playing for Change during their last stop in Boston
Artists including Bono, Stephen Marley, Ziggy Marley, Toots Hibbert, Taj Mahal, Keb' Mo', Vusi Mahlasela, and Manu Chao have collaborated on Playing For Change recordings, the most recent being 2011's 'Playing For Change 2: Songs Around The World' (Hear Music/Playing For Change Records). Clarence Milton Bekker, a prolific and soulful Dutch singer who is featured on the album and tour, will also release his own new album 'Old Soul' in 2012, featuring reinterpretations of R&B classics such as Otis Redding's "Try a Little Tenderness" and Sam & Dave's "Hold On, I'm Comin'."
In 2007, the Playing For Change Foundation was formed as a separate non-profit organization that creates and supports music schools all over the world, particularly in developing countries. Its mission is to ensure that anyone with the desire to receive an education in music has the opportunity to do so, based on the fundamental idea that peace and change are possible through the universal language of music.
http://playingforchange.com/
http://playingforchange.org/
https://www.facebook.com/PlayingForChange
http://twitter.com/#!/Playing4Change
http://www.myspace.com/playingforchange
http://www.youtube.com/user/PlayingForChange
Media Contact:
Sue Auclair,
617‐522‐1394;
jazzwoman(at)earthlink(dot)net
###