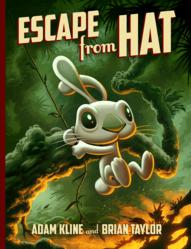 Los Angeles, California (PRWEB) February 14, 2012
ZOVA Books, a publishing firm in Los Angeles, will release Adam Kline and Brian Taylor's debut children's fantasy adventure novel, "Escape from Hat," on July 3, 2012.
"Escape from Hat" is an illustrated children's novel about a young boy who loses his lucky rabbit. The playful premise unfolds into a comically epic journey story, both for the young boy in search of his lucky rabbit, and for the rabbit himself, as he tries to make his way through the dark lands of Hat and back to "the world that has a sun." The story draws on literary traditions from Tolkien's Lord of the Rings series to Richard Adams' "Watership Down," while incorporating subtle contemporary allusions, making it a compelling narrative for children and adults alike.
"Brian Taylor's detailed illustrations add a modern feel to an otherwise formal narrative. An homage to both traditional adult fantasy and animal fables alike, 'Escape from Hat' promises to become the next children's classic," says ZOVA Books Publisher Molly Lewis. "This is a book to read aloud at bedtime or in the classroom, with a story compelling enough for younger readers and vocabulary challenging enough for older readers."
Winning widespread recognition when awarded placement on the Hollywood Blacklist, Adam Kline has since worked for Focus Features, Twentieth Century Fox, Sony Pictures Animation, and the Weinstein Company. "Escape from Hat" is his first book. Kline is represented by Circle of Confusion and UTA. ZOVA Books is also represented by Circle.
"The guys at Circle wanted to shepherd this project closely, so it made sense to work with one of their publishers. Brian and I had a specific vision for 'Escape from Hat' and ZOVA has been enormously generous with our creative freedom on the project. I think a lot of publishers are wary of straying from proven formulas, particularly with regard to target demographics. Most books restrict their audiences to very narrow age ranges, but 'Escape from Hat' is intentionally different," said Kline.
Drawing influence from sources ranging from Ridley Scott to Jean-Pierre Jeunet, Brian Taylor draws and paints full-time in Scotland. Taylor's work has been featured in a variety of industry periodicals, including "3D World and Entertainment Weekly." The latter named the artist one of the top 100 creatives in entertainment.
"Adam and I are equally reverent with regard to classic children's literature, so we've worked hard to maintain a timeless aesthetic. We've just tempered our sense of 'classic' with modern sensibilities.
"In the past, I've always tried to match a visual style to the project at hand. 'Escape from Hat' just happened to match my own personal style, which I've been developing since I was a boy. The finished art feels quite a natural way in which to communicate with children."
ZOVA Books is actively developing its catalog of children's fiction, both for middle grade and young adult readers, with such releases as Clive London's "Prince Albert and the Doomsday Device," which received a Kirkus starred review and was recently listed among Kirkus' New and Notable Fiction list, and Jessica Therrien's young adult paranormal romance novel, "Oppression."
Whitney Lee, of The Fielding Agency, is representing the book's foreign rights, and will be featuring it at the Bologna Children's Book Fair in March.
For media and rights inquiries and interviews, please contact Matthew Pizzo at ZOVA Books.
About ZOVA Books:
ZOVA Books is a publishing firm located in Los Angeles, California that publishes genre fiction titles, including works by New York Times #1 bestselling authors Michael Blake ("Dances With Wolves," "The Holy Road," "Into The Stars") and Anna Lee Waldo ("Sacajawea," "Watch the Face of the Sky"), as well as debut YA author Jessica Therrien ("Oppression"), Kirkus Star recipient Clive London ("Prince Albert and the Doomsday Device") and internal bestselling author Michele Scott. ZOVA Books' film, television and foreign rights are managed by Hollywood production and management company Circle of Confusion.
###