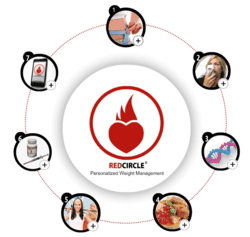 Houston, Texas (PRWEB) February 11, 2012
RedCricle personalized weight management program is based on an individual's metabolism, genetic blueprint, cardiometabolic status, and life style. The RedCircle program is comprised of 7 scientifically proven components: 1) Baseline Assessment, 2) Cardiometabolic Profiling, 3) Genetic Profiling, 4) Meal Planning, 5) Personal Training, 6) Metabolic Supplements, and 7) e-Coaching.
If you sign up with RedCircle from Feb 12-20, your Valentine (or relatives) will receive a free package!
Supported by cutting edge medical technology and distinguished doctors, RedCircle is a revolutionary Personalized Weight Management Program based on your genetic blueprint and metabolism, unlike the "one size fits all" programs in the weight loss and fitness industry,
For more information on RedCircle please visit http://www.myredcircle.com or call 713-781-7332.
###