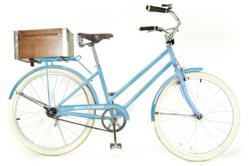 Our newly introduced distribution program, which we just launched in Brazil, is the ideal solution to the global interest in our brand as we can now make our bikes available domestically within each country
Brooklyn, NY (PRWEB) February 13, 2012
Commuter bike company Brooklyn Cruiser, which offers vintage inspired city bikes, has launched an international distribution program, the company announced today. The program offers an opportunity to make Brooklyn Cruiser bikes available locally around the world. The company, which launched the program in 2012, has already signed an agreement with a distributor in Brazil with bikes being available domestically in Brazil by May 2012.
Bikes available for distribution will include Brooklyn Cruiser's three speed city bikes that combine the function, comfort, and style of a classic Dutch bike with the stable and smooth ride of a hybrid bike. In addition to the three-speed internal hub, the bikes also include a pre-conditioned genuine leather saddle, ergonomic leather grips, front hand and rear coaster brakes, rear carriers, cream tires and Brooklyn Cruiser's signature double top tube frame.
"After our initial launch, we received quite a bit of interest from customers on the international level, however, the shipping costs made it prohibitive to ship the bikes from the States," said Founder Ryan Patrick. "Our newly introduced distribution program, which we just launched in Brazil, is the ideal solution to the global interest in our brand as we can now make our bikes available domestically within each country," he added.
Established in 2011, Brooklyn Cruiser mirrors the same iconic qualities of Brooklyn itself - accessibility, durability, and original style. Brooklyn Cruiser bikes range between $499-$549 plus shipping. Bikes can be found at select retail locations across the country or can be purchased online at http://www.brooklyncruiser.com. Bikes are shipped 90 percent assembled, but Brooklyn Cruiser recommends a mechanic test the bike for safety before riding. Bikes can be delivered fully assembled in Manhattan, Brooklyn or Queens. For more information on the Brooklyn Cruiser distribution program, contact Ryan Patrick at info(at)brooklyncruiser(dot)com or call (800) 631-0630. Brooklyn Cruiser is based in Williamsburg, Brooklyn.
###