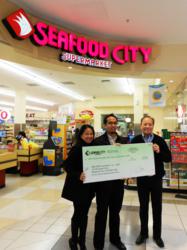 Redwood City, Calif. (PRWEB) February 10, 2012
Filipino Americans and donors from the United States and Canada were some of the first to respond to a call for help in December 2011, when Typhoon Sendong, known internationally as "Washi," ravaged the northern coast of the southern island of Mindanao in the Philippines. The Associated Press reports that the death toll stands at 1,249 as of Dec. 26, 2011. The ABC CBN Foundation International issued a report today that $315,197.08 was raised for the on-ground rescue and rehabilitation operations. More aid is being received and processed to date.
Typhoon Sendong disrupted the lives of more than 120,000 families—or 1.1 million Filipinos—in 815 villages and 8 cities in 13 provinces. At the peak of the rescue operations, at least 280,000 individuals were housed in evacuation centers. Relief goods were transported and distributed at these centers by civilian volunteers and members of the military as they distributed blankets, kerosene lamps, bottled water, topical medicines, clothing, hygiene kits, and food. Hundreds are still missing. At least 6,600 families—or 32,000 Filipinos—remain in 55 evacuation centers.
A Manila-based operations report dated January 17th announced that US-donations contributed to allow them to serve 288,852 individuals in immediate relief assistance. Almost 13,000 of the evacuees and survivors were attended to by a soup kitchen. Almost 40,000 families are regularly receiving potable water. These services were provided to the victims in ground zero in Northern Mindanao's provinces of Cagayan de Oro, Iligan, Butuan, and Leyte.
A January 26 report further details that mobile showers were provided to serve 480 families, 970 students were provided with regular meals and 411 patients were treated through medical and dental missions in the province of Quezon.
"When you see the dead bodies around, feel your heart sink at the pain of a mother crying for help as she searches for her missing children… when you get to the evacuation centers where you can find posters bearing the names and identities of dead bodies recovered, you will be moved to tears and tell yourself, you can never let this happen in my hometown," said Terry Aquino, from the ABS CBN Foundation in Manila.
The US-based nonprofit saw 3.817 individual and institutional donors of which 2,670 or 70% are first-time or reacquired donors, bringing the average gift to $85 per donation. Over one thousand of these new donors donated online.
"When you lose everything you have and people you love, it is a devastation that challenges the human capacity to overcome," said J. Robbie Fabian, President of the ABS CBN Foundation International. "But where we're from, we overcome together."
Typhoon Sendong was tagged internationally as 2011's deadliest storm. The surviving families in Northern Mindanao are slowly rebuilding their lives with your help. Visit http://www.abscbnfoundation.org to learn how you can help today.
ABOUT ABS CBN FOUNDATION INTERNATIONAL:
ABS CBN Foundation International is a 501(c)3 non-profit organization dedicated to improving the lives of disadvantaged Filipino children and their families in the Philippines and around the world. Its flagship program, Bantay Bata (Child Watch), is a child abuse rescue operation that responds to an average of 15,300 calls for assistance a year. The program assists more than 21,000 children and families in relocation communities and feeds at least 4,400 severely malnourished children a year. Its education program serves 4.2 million elementary school children and their teachers.
In the United States, the organization partners with Filipino-American organizations and associations in addressing community issues--youth truancy, housing, issues affecting the elderly, health, and emergency needs. For more programs and information, visit http://www.abscbnfoundation.org.
###