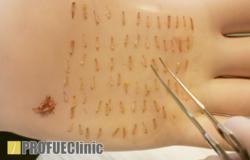 PROFUE hair implantation is the best way to get back your hair again. There are dozens of bold men and women who visit Hungary each year due to the lower prices.
Budapest, Hungary (PRWEB) February 27, 2012
ProFueClinic Hair Clinic and Dr. Vincze Peter, primary doctor, are pleased to announce the availability of hair transplantation methods - in hungarian hajbeültetés - in a state-of-the-art clinic located in Budapest. The method is growing in popularity as more individuals take advantage of the new techniques.
The hair transplantation method launched by ProfueClinic is minimally invasive. This provides even better results than the FUE technique. In part, this is due to the thinner extraction needles that are used during the hair transplantation procedures - hajbeültetési árak és költségek. Scars in the donor and in the implanted area are nonexistent. A high volume of hairs, about 4000 in one day, can be transplanted. This is enough to make a significant difference in appearance.
According to Dr. Peter, speaking in a recent interview, "The Profue needle is so thin, that it only makes a hardly visible tiny hole on the scalp, and these little red dots will be visible for a couple of days only; after healing, there are no signs of the surgery whatsoever."
Visiting the website will allow viewers to see before and after images for those patients who have undergone the procedures - http:// hajbeültetési eredmények. Benefits of this procedure include speed of transplants, less discomfort and minimal scarring.
Learn more about success stories related to hair implantation methods such as ProFue Clinic offers by visiting the web pages today. Members of the press and others who have further questions about methods and techniques as described in this press release may contact Dr. Peter at the location described below.
Contact Person Name: Dr. Vincze Peter
Company Name: ProfueClinic Hair Clinic
Address: Szondi Street 95/2, Budapest 1065 Hungary
Contact Telephone Number: 36 30 607 9885
Email: PROFUEClinic(at)gmail(dot)com
###