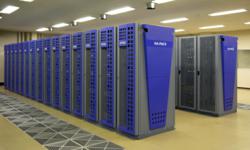 "We are pleased with the deployment of the Appro Xtreme-X™ Supercomputer to support the HA-PACS project and put us on the fast path towards Exascale computing," said Taisuke Boku, Dir of Center for Computational Sciences at University of Tsukuba
Milpitas, CA (PRWEB) February 14, 2012
Appro (http://www.appro.com), a leading provider of supercomputing solutions announces that the Center for Computational Sciences (CCS) at the University of Tsukuba in Japan has deployed and started operation of the new Appro Xtreme-X™ Supercomputer to support the Highly Accelerated Parallel Advanced system for Computational Sciences (HA-PACS). The new supercomputer went live in early February with the deployment right on track.
HA-PACS is a 3-year project at the CCS, University of Tsukuba, to develop a new generation of large scale GPU clusters to be used as a testbed study to develop "tightly coupled parallel computing acceleration mechanism" to allow direct communication among the GPUs, targeting to accelerate further parallelism among the GPUs. As the study and technology of the HW and SW matures, the plan is to achieve an Exascale computing technology to support future computational science.
"We are happy to complete installation and deployment of the Appro Xtreme-X™ Supercomputer based at the University of Tsukuba. This cutting-edge hybrid supercomputer system will deliver performance, scalability and manageability to help lead a new beginning of scientific research", said Daniel Kim, CEO of Appro.
The Appro Xtreme-X Supercomputer is a hybrid system featuring a combination of CPUs and GPUs in each compute node to achieve higher performance in a small footprint. Each compute node offers 2 CPUs based on the future Intel® Xeon® processor E5 product family and 4 GPUs based on NVIDIA® Tesla™ M2090 Series. Each node provides 2.99 TeraFlops of computing power providing the world's fastest GPU accelerated node for massively clustered systems. The entire supercomputer achieves a peak performance of 802 teraflops (802 trillion times per second) to support computational sciences breakthroughs in the fields of subatomic particles, life sciences, space, nuclear physics and earth environment.
"The Center for Computational Sciences at University of Tsukuba is pleased to have access to the Appro Xtreme-X™ Supercomputer to support the HA-PACS project. This deployment will put us on the fast path towards Exascale computing," said Taisuke Boku, deputy director of Center for Computational Sciences at University of Tsukuba.
About Appro
Appro is a leading developer of innovative supercomputing solutions. Appro is uniquely positioned to support High-Performance Computing (HPC) markets focusing on medium to large-scale deployments where lower total cost of ownership is essential. Appro accelerates technical applications and business results through outstanding price/performance, power efficient and fast time-to-market solutions based on the latest open standards technologies, innovative cluster tools and management software packaged with HPC professional services and support.
Appro supercomputing solutions enables scientists and engineers to use data-intensive, capacity, capability and hybrid computing for scientific research, data modeling, engineering simulations, and seismic visualization. Appro's headquarters is located in Milpitas, CA with offices in Korea, Japan and Houston, TX. To receive automatic Appro news and feature stories, subscribe to Appro RSS feeds at http://www.appro.com, also visit us on Facebook at http://www.facebook.com/ApproSupercomputers or interact with us at http://twitter.com/approhpc
About Center for Computational Sciences, University of Tsukuba
The Center for Computational Sciences was founded on April 2004 as an inter-university research facility for computational sciences, reorganizing and expanding Center for Computational Physics (April 1992-March 2004). The mission of the Center of Computational Sciences is to enable scientific discovery by computational science through the application of advanced computing technologies, and support researches of computational science in Japanese universities by running leading-edge advanced computing systems. In our history of CCS, we carried out an R&D of a massively parallel computer CP-PACS (ranked as No. 1 system in the November 1996 Top 500 List) by a collaboration of physicists and computer scientists. The Center aims to carry out research on critical issues of fundamental science, material science, life science and environmental science through large-scale simulations and large-scale data analyses. For more information visit us at http://www.ccs.tsukuba.ac.jp
###