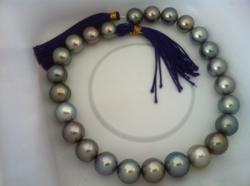 Something that only takes place a handful of times each century is something that is truly valuable. That is why we get so excited about eclipses, two headed snakes, and 20-carat diamonds.
San Diego, CA (PRWEB) February 10, 2012
RoadFish.com men's lifestyle and finance magazine had the good fortune to witness a true and very rare beauty this week in the form of unique art from the ocean. A set of large, unblemished pastel pearls strung together as a necklace made its way onto the jewelry market recently. The pearls which were gathered from Tahitian islands lagoons are worth a tiny fortune (approximately $150,000). William White, the owner of Mutiara LLC, is the seller of this extraordinary piece of jewelry.
White obtained the striking arrangement of rare pearls from a Tahitian native while on a business tour through the outer Tahitian islands. The striking strand consists of 25 high luster pearls, each 15-17.5mm around. Having never been touched by artificial treatments or dyes, they are naturally pastel multi-colored with AAA surface quality, meaning very minimal to no surface blemishing.
White has been seeking out and selling beautiful, rare pearls as a business for years. White stated of his calling, "Through a deep connection with the ocean and a passion for surfing, I was drawn to the natural beauty of the Tahitian pearl and the lagoons they are farmed in. A chance encounter with a local Tahitian pearl farmer introduced me to the cultivation of Mother Nature's most precious gem, the Black Pearl. I launched my business, Mutiara LLC, with one single goal in mind: to collect the most beautiful pearls Mother Nature has to offer. I have been searching and collecting the finest Tahitian Black pearls ever since."
RoadFish.com's editor is quoted saying, "The rarer something is the more valuable it is. Something that only takes place a handful of times each century is something that is truly valuable. That is why we get so excited about eclipses, two headed snakes, and 20-carat diamonds. If you go down to your local jeweler even if he is a pearl dealer and ask him to see something like I just described you'll get just how rare this is."
Cultivated pearls, including White's Tahitian pearl set, go through a process known as grafting. The procedure involves an oyster farmer altering a living, pearl-bearing oyster in order to produce the coveted pearly iridescence called nacre on the outside of a pearl nucleus. Grafting involves placing a small piece of shell, which has been whittled to a perfect sphere, inside of the living oyster. This is the nucleus of the pearl. The nucleus comes from mollusk shells harvested in the Mississippi river valley. Next a small piece of mantle tissue is taken from a donor oyster and is also inserted alongside the small, spherical mollusk shell bead. The oyster, then returned to sea, becomes irritated by this shell inserted inside and produces over that piece of shell layer upon layer of the iridescent, rainbow-reflecting nacre surface.
RoadFish.com's editor felt very fortunate to have been able to experience something so spectacular looking first-hand. He stated, "This collection that Willie came across was like nothing I had ever seen in my life. What makes a string of pearls so valuable is the combination of how spherical the pearls are, how smooth the surface is, the amount of luster, and how well that pearl matches the other ones in the set. These things look like gumballs, were perfectly spherical, were ridiculously shiny and bright, and the indescribable pastel color changed depending on the lighting. Truly remarkable. This is an incredible find. Whoever purchases this necklace will be very happy. Who knows Valentine's day is coming up. Maybe there is one lucky lady out there that might have these coming her way."
Mutiara LLC specializes in the purchase and sale of Tahitian pearls and jewelry. Requests for more information on Mutiara's products can be sent to mutiaragems(at)gmail(dot)com.
About RoadFish.com
RoadFish.com is an online men's lifestyle and finance magazine targeted toward men in their 30's and 40's that have already attained a moderate level of success in life, and are striving toward more. It goes over current events of interest to this group, such things as exciting adventures, consumer interests, hot cars, dating tips, as well as ways to make more and save more money. It is a publication owned by Purpose Inc.
###