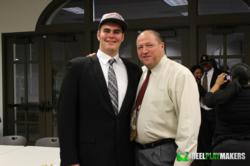 "I decided to go to USC because I felt like it was the perfect fit for me," Simmons said. "I just want to compete when I step on that first day. I'm excited. I'm ready to start."
Encino, CA. (PRWEB) February 11, 2012
On January 31, 2012 seven Crespi seniors made their intent to play college football official. Headlining this class was Jordan Simmons, rated by Rivals.com as the number one lineman in the nation. There was no doubt that he was sure of his choice as Simmons wore a USC tie and hat to the announcement ceremonies at Crespi Carmelite High School.
Chris Harper will join Simmons in the PAC-12, where he will attend the University of California, Berkeley. Unlike many recruits who changed their minds about Cal after coaching changes, Harper stayed true to his choice. Harper and Simmons commitments left no surprises as their intentions were made clear before Signing Day and their recruitment was heavily publicized by all recruitment sources.
Crespi had two more offensive linemen make commitments as well. Colin Prestesater formerly of Glendora High School signed with Idaho State University. A great all-around athlete, Prestesater just finished the wrestling season with a 22-9 record. Fellow lineman Wes Hewitt may have the most interesting story of the group. Hewitt attended a high school in northern California that discontinued the football program. After a year off from football, he was able to make the most of his opportunity at Crespi and he will attend Western Oregon in the fall.
Linebacker Sebastian Edwards decided not to wait on his Ivy League acceptances and made his commitment to Johns Hopkins. Noah Ciccel and Nathan Walker began their careers on the Crespi reserve freshman football team. The two blossomed as players on the junior varsity team and eventually became starters in the defensive backfield for the varsity. Ciccel committed to Azusa Pacific University and Walker is headed to play at UC Davis. Walker is also a recipient of the 2011-2012 National Football Foundation and College Football Hall of Fame Scholar-Athlete Award. Annually, the National Football Foundation and College Hall of Fame Chapters present this award to students who demonstrate outstanding football performance, team attitude, academic achievements, campus achievements, citizenship, and character. Walker was the choice for the San Fernando Valley High Schools.
This is the largest group of commits for Crespi football since the 2010 class that included impact players Bryan Bennett at Oregon, Hroniss Grasu at Oregon, Ben Loth at Iowa State, Mike Mitchell at Nevada, Pierce Richardson at Iowa State, and Blake Stanton at Oregon. The 2012 class still has more students waiting to sign and the class could finish with a total of twelve players signing for scholarships. Mike Davidson, Sean Lemoto, Nick Metoyer, Jacob Speer, and Terry Williams are still waiting to confirm their commitments.
###