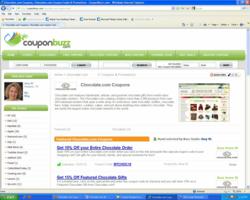 Chocolate.com is a sweet place to shop…with gourmet chocolates in every price range to appeal to every chocolate-lover out there.
Houston, TX (PRWEB) February 11, 2012
CouponBuzz.com announced earlier today that they would be featuring a new 10% off coupon from Chocolate.com. This latest deal arrives just in time for Valentine's Day, and is highlighted on their new webpage dedicated to Chocolate.com coupons. The new section follows a recent trend by CouponBuzz.com, focused on increasing the accessibility of the coupons, sales and special offers of their most popular online merchants.
Chocolate.com has created a unique marketplace in which an online shopper has access to incredible chocolate creations by chefs whom they would be unlikely to connect with in any other setting. At Chocolate.com, consumers from Midwest farmers to Japanese businessmen can treat themselves to a fantastic chocolate creation. From chocolate truffles and chocolate caramels to a solid chocolate high-heeled shoe, Chocolate.com has some truly irresistible inventory.
"Chocolate.com is a sweet place to shop, no pun intended,' enthused Justin Bowen, one of the management team at CouponBuzz.com. "They have structured their site to create an incredibly user friendly interface, with gourmet chocolates in every price range to appeal to every chocolate-lover out there. And they offer great deals on a regular basis. Their latest 10% off coupon is a perfect example of the great Chocolate.com coupons we built the new section of our site to highlight."
The 10% off coupon is valid site-wide at Chocolate.com, now matter how large or small a customer's chocolate order turns out to be. And everyone knows that when shopping for chocolate a few extra items seem to have a way of sneaking their way into the cart. And now all the Chocolate.com coupons and special offers can be found in one place at the new CouponBuzz.com section, http://couponbuzz.com/chocolate.com-coupons.html. With savings like this available, gourmet chocolates are now well within everyone's budget. So go ahead and get shopping for Valentine's Day – 'resistance is futile!'
###